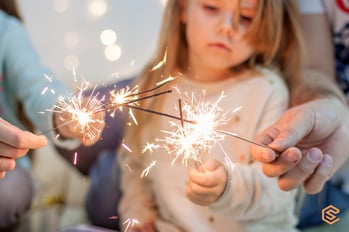 It's that time of year again.
The weather is beautiful. Families and friends are gathering for cookouts. Children are chasing lightning bugs. Summer is here. This also means it's the season for fireworks: sparklers, firecrackers, skyrockets, and more.
Each year, thousands of people are injured by fireworks. While many know they're dangerous, few know the risks and how to stay safe. The same goes for other summer fun activities such as water fun and barbequing. With the Fourth of July holiday approaching this weekend, it's good to remember some simple precautions and safety measures to take ahead of your big celebrations.
Fireworks Safety
Each year, fireworks cause thousands of injuries to children and adults. Per the U.S. Consumer Product Safety Commission (CPSC) Fireworks Annual Report,
More than 19,500 fires are started by fireworks

Children ages 10-14 accounted for the highest rate of fireworks injury at 36%

Sparkler account for approximately ¼ of emergency room fireworks injuries
If you plan on doing fireworks, it's important to follow these safety guidelines:
Never give fireworks to small children

Never throw or point a firework toward anyone (including animals) or anything

Keep a supply of water nearby

The person lighting fireworks should always wear eye protection

Light one firework at a time

Store fireworks in a cool, dry place away from children and pets

Don't relight a firework that doesn't go off
All-in-all it's by far safest to leave it to the professionals. So, pack up the lawn chairs and blankets and head to your local fireworks show instead.
For more information on firework safety, visit NFPA Fireworks.
Water Safety
Summer months mean enjoying more time in the pool and on the water. During the holiday weekend, more people tend to flock toward the water, whether it's a home pool, lake, or ocean. With each of these bodies of water, there's a risk for drowning, particularly with young children. Follow these safety tips to help prepare you and your friends and family for a fun time on the water.
Talk to your children about water safety

Know where lifeguard stations are located

Always keep an eye on children in the water

Review safe boating practices

Never consume alcohol while driving a boat

If boating, ensure there are enough life vests onboard for every passenger, including child-size

Set water safety rules for your family

If a private pool, they should be enclosed completely with a fence to restrict access to the immediate area

Keep a first aid kit near the pool
For more water safety tips, visit American Red Cross.
Grill Safety
Barbeques and grilling are a big hit this time of year. There may be lots going on when you're grilling so it's important to remember these safety tips to ensure everyone stays safe. Check gas grill hoses for cracks, holes, and leaks.
Keep children and pets away from grills

Never grill indoors, whether it's the garage or another enclosed space

Keep the grill at least three feet away from decks, siding, branches and any outdoor equipment that can catch fire quickly

Always supervise a barbecue grill when in use.

Don't add lighter fluid when coals have already been ignited.

Use the long-handled grilling tools
For more grilling safety tips, visit NFPA Grilling.
Everyone wants to have a memorable celebration with family and friends, especially this year as more and more people are getting together. Make sure to practice these safety precautions to ensure your memorable celebration is for all the right reasons. We don't want fire sprinklers and extinguishers to work overtime this holiday. For more information on first aid and life safety to keep you safe during the summer, visit here.