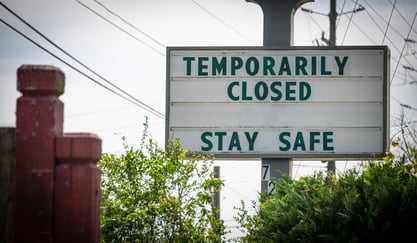 The COVID-19 pandemic has certainly been an unexpected situation resulting in nearly every state issuing stay-at-home orders to varying degrees and causing many businesses, facilities, and buildings to close and remain vacant and unattended while employees work remotely. This situation presents a new set of risks by leaving your buildings vulnerable and insecure. CertaSite wants to help by calling out common risks associated with leaving your buildings unattended, along with what you can do to mitigate those risks and the potential negative outcomes that could result.
In this recent release, the National Fire Protection Association (NFPA), a global leader in fire, life and electrical safety, urges business owners and facility managers to make an extra effort to ensure that the fire protection and life safety systems in all commercial buildings be properly maintained throughout the pandemic. At the forefront of reasons to keep your building secure is being mindful to not overburden first responders who already have their hands full with pandemic-related responses.
President and CEO of the NFPA, Jim Pauley, is instructing all facility managers to make sure their buildings are safe and secure during closures. Pauley urges, "While communities are rightly focused on dealing with the pandemic, we cannot put additional strain on our overburdened emergency response capabilities by not ensuring buildings are protected with the very equipment that saves lives and property." Rightly, he further he commented, "First responders rely on commercial and multi-occupancy residential buildings in their communities to have a full array of fire and life safety systems such as working fire detection, alarms and sprinkler systems." To drive this critical point home, he concluded, "The need for buildings to be safe and the systems within them to be operational is and will continue to be critical to public and first responder safety."
We know you're focused on keeping your employees and other assets safe while you're open for business, but there are important things you can do now to ensure your business or facility continues to be safe while it is vacant.
Below are some of the risks to leaving your business vacant during the COVID-19 pandemic that you may not have considered, and ways to ensure your facility is safe while unattended.
Fire Hazards

– While it may not be as big a consideration while the building is occupied,

everyday

items in your vacant building can be a serious fire hazard. Dust build-up on wood, metal, and plastic surfaces can become an unexpected fire hazard when left uncleaned for a long period of time. In addition, computers and other electronic machines in your facility can heat up and become a fire hazard. From computers and power cords to microwaves and monitors, these items collect dust particles and produce heat

and

can become a problem when left in an unoccupied building. 




Inoperable Fire Doors

–

In this article

, the NFPA reported that

to

control the spread of the COVID-19 virus, some facilities were propping fire doors open in order to avoid people touching them to open. This presents significant risks and extreme hazards in the event of a fire. It is crucial that we balance the risk of the

COVID-19

against other real and existing potential hazards that could cause harm to many in a short period of time.




Providing Safe Egress Points

– The doors of your building are crucial in fire-protection and serve as a part of your fire safety program.

In this release

,

among other considerations,

the NFPA reminds us that local fire codes require that a business maintain unobstructed access from occupied portions of a building to a safe place. When a smoke or fire-protection rated door is blocked, it can seriously compromise the integrity of the building's compartmentation plan, so maintaining these doors and openings are crucial even when your business is unattended.
Stockpiling Emergency Materials

– Many businesses and individuals, driven by concern over lack of long-term availability of certain products like hand sanitizer, or alcohol-based hand-rub (ABHR), have begun stockpiling. Additionally, to meet the surge in hand sanitizer demand, some businesses already versed in the world of alcohol, like breweries and distilleries, are shifting their production capabilities to produce hand sanitizer instead of spirits. The problem with that, safety experts have warned, is it could create a fire hazard, especially when large amounts of hand sanitizer are being stored in areas that weren't designed to hold such a highly flammable product. While most hard liquor registers at 40 percent ethanol by volume, hand sanitizer ranges from 60 to 95 percent. "They may have introduced things that compromise previously put in place protections," Guy Colonna, director of NFPA's Engineering Technical Services division, says in

this video produced by the NFPA

.

Read the full article here

.

It's critically important to be aware of non-compliant storage issues at your facility. Many building managers may not be aware that the storage and use of ABHR

is regulated by fire and life safety codes.

NFPA 30, the Flammable and Combustible Liquids Code

, recognizes the need for nearly all occupancies to provide ABHR dispensers in order to prevent the spread of infectious diseases. The safety requirements for ABHR use include limits on amounts of the solution that can be located onsite – whether stored or in use due to its flammability. It is crucial to know and obey these limitations, especially as buildings begin to reopen to ensure they are not storing excess amounts of ABHR in areas without proper protection.


Ch

ange in

Storage

Use Could Require More Protection

– The NFPA codes may also come into play with items like masks and other personal protective equipment (PPE) that are not typically stored in your facility. Since NFPA codes require areas of buildings with an expanded hazard level than normal to be protected either with fire rated separation or a sprinkler system, having this additional inventory may actually change the use of the space in the building from what it was originally designed for. When it becomes a storage area, it results in an unprotected space that cause concern and citations during a fire marshal inspection.





Vandalism –

The NFPA recommends that all commercial buildings and facilities should maintain their fire and life safety systems as required by the applicable codes and standards to help guard against vandalism while the property is left empty. Having these systems operational

means

they are working to protect your assets and will quickly help deter any vandalism efforts.
CertaSite
is on a
critical
mission to protect as many lives as possible
and is here
to serve as
your
trusted partner in
all
your fire and life safety needs.
Simply put,
w
e're
more than just fire extinguishers.

CertaSite is also deemed an essential business and all locations will remain open for regular service, repair and emergency service work to all businesses. As a provider of essential fire protection and life safety products and equipment necessary to maintaining a safe environment, we recognize the importance to be available to you during this time. If you are closed, now may be a good time to complete your required repairs and maintenance to keep your life safety systems up and running.
We encourage you to request a free quote so we may partner with you on assuring your fire and life safety systems are in optimal repair and condition. Until then, please stay safe and healthy and let us know how we can better serve you.