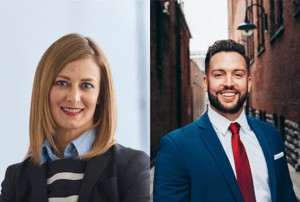 INDIANAPOLIS, Ind. – CertaSite, a commercial fire protection and life safety company, announced today it has promoted Kelly Henderson to serve as chief operating officer and Kevin Bretcher to serve as chief revenue officer. Kelly and Kevin are both based in Indianapolis at the CertaSite headquarters and sit on the CertaSite leadership team.
In their new roles, Kelly's primary focus will be the overall accountability of the company to ensure strategic business objectives are achieved, while Kevin now partners closely with key CertaSite stakeholders to execute the corporate strategic plan and deliver on a winning growth strategy through the company's revenue-generating departments.
Kelly helped launch CertaSite in 2018, serving as chief marketing officer followed by chief strategy integration officer, playing a key role in all things CertaSite. From building the CertaSite brand from scratch to implementing and leading our organization business strategy, Kelly has directly touched all facets of the company.
Joining CertaSite in 2019 as vice president of sales, Kevin's success leading and developing high-performing sales teams and strategies within the department and organization in addition to collaborating with multiple departments to ensure our customers are taken care of quickly catapulted him to vice president of revenue and now chief revenue officer.
"Kelly and Kevin are the epitome of everything CertaSite represents," said CertaSite CEO Jeff Wyatt. "They are two of the most experienced professionals I've had the privilege of working with. Their innate understanding of how each operational function and strategic initiative enhances our customer and employee experiences will continue to take CertaSite to new levels."
CertaSite goes beyond compliance to provide the highest levels of customer service, responsiveness, building safety and code compliance to customers across the country. With a customer-focused approach, the company emphasizes partnerships and professionalism while providing customers a dependable and simplified solution to managing all the fire protection and life safety systems.
About CertaSite
CertaSite is a commercial fire protection and life safety company founded in 2018. We take a new approach to fire and life safety, going beyond compliance to give our clients an unmatched level of customer service and tech-based control over their fire and life safety systems. Our team of experts serves 18 locations. CertaSite is headquartered in Indianapolis. Visit www.certasitepro.com for more information.