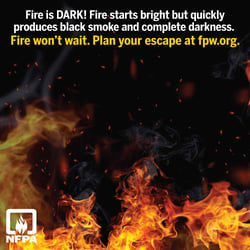 Every 23 seconds, a fire department responds to a fire somewhere in the United States, according to the National Fire Protection Association. While the majority of these are home fires, fires can happen anywhere – including in the workplace.
One of the best things you can do to make sure you're prepared in case of emergency is have a plan. Action plans were the focus of Fire Prevention Week this month, and it's important to have both a plan you make at home with your family as well as a plan for your workplace.
What goes into an action plan? We're walking you through the basics of both types of plans – and why they're so important – below.
Home Action Plan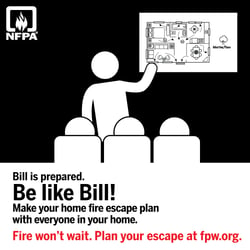 No one likes to think about what will happen if their house catches on fire – but thinking about it now and practicing the plan can make all the difference should it occur. Every family should have a plan for what to do in case of emergency. This plan should include:
Knowing two ways out of every room in your home.

Checking smoke alarms monthly.

Choosing a meeting place away from the home, where everyone will meet up.

Assigning a capable adult to each child or other family members who might need help escaping.

Practicing the plan at least once a year – and ideally once at night.
In Fire Prevention Week, they propose using the first Saturday of each month to test smoke alarms and review the plan. By practicing, you can rest assured that everyone knows exactly what to do and where to go if a fire or other emergency happens.
If you want more tips on creating a home action plan, read our blog on home escape plans, home fire prevention and more.
Work Action Plan
Although remote work is becoming more and more common, many people still go into the office at least a few times a week. Because fires can happen at work, it's important to also have an action plan for what to do if an emergency happens in your workplace.
Every company should have a professional fire and life safety company - like CertaSite - ensure they have the proper number of sprinklers, extinguishers, exit lighting fixtures and more. The employer should also make sure all employees know what to do in case of a fire, and fire drills should be conducted at least twice a year, along with other drills for situations like tornadoes, an active shooter, and other threats.
As an employee, some of the critical things to know when it comes to a fire safety action plan includes:
Locations of fire extinguishers, including knowing where the nearest one is at all times.

Locations of emergency exits.

What the different alarms sound like and what they mean.

Knowing the escape route you're instructed to take from different areas of the building.

Know where to meet up away from the building, and any staff you need to report to or account for.

Practice, practice, practice. Be sure to participate in all drills.
In the workplace, it's up to employers to maintain much of the fire safety measures. When you work with a preferred fire protection company, they will provide a fire prevention and protection plan that's custom-fitted to your company's unique needs. They should also make sure you're compliant with all signage, prevention measures and more, as well as walk you through everything that needs to happen to maintain emergency preparedness.
To learn more about safety action plans in the workplace, read our workplace safety and preparedness blog.
Preparedness is Key
If an emergency happens, you don't want to be scrambling to figure out what to do. The importance of plans and of practicing those plans is two-fold: it helps you determine what needs to happen in an emergency, and it also gives you the muscle memory through practice to respond as you need to if it actually occurs.
Working with professionals can give you peace of mind that you're prepared, no matter what happens.