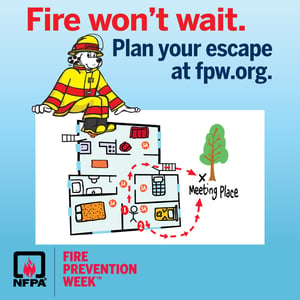 It's Fire Prevention Week – and this year the National Fire Prevention Association (NFPA) is celebrating 100 years of the week-long event! This year's theme? "Fire won't wait. Plan your escape."
According to the NFPA, more than a quarter of all reported fires are home fires – and home fires account for more than 75% of all civilian fire deaths. On average, more than 2,600 people die in home fires each year.
These statistics can be sobering, but fortunately, just having a home escape plan, family action plan and following fire prevention protocols can go a long way in protecting you and your loved ones. During this Fire Prevention Week, take some time to create or review your family's plans, using the guides below.
Home Escape Plan
A home escape plan is exactly what it sounds like: it's a plan every family should create together so that every family member knows what to do in case of a fire or other emergency. Some guidelines to follow are below, and more information is available on the Fire Prevention Week website.
Go through each room of your house and find two ways out of each room. Make sure all windows and doors are working open easily.

Make sure your home has smoke alarms and test all of them monthly.

Pick a meeting place outside, away from the home, where everyone will meet in case of emergency.

Make sure every member of your family knows the plan. NOTE: Children under five should not be expected to escape on their own, according to the AAP. Instead, assign an adult who will find the child and bring them to safety in case of a fire. The same goes for elderly family members or those with mobility issues or cognitive considerations.

Ensure everyone in the family knows how to call 911.

Practice what to do in case of a fire.
It can also be helpful to draw a map of your home and label all the exits. To find a grid to do this – and to see more checklist items – visit the Fire Prevention Week website.
Family Action Plan
A family action plan is focused on actual fire prevention and fire safety, as well as what to do as far as escaping in case of a fire. National Fire Prevention Week advocates for two big actions that every family take.
First, families should make the first Saturday of each month "Smoke Alarm Saturday." This is a day to check that you have smoke alarms in every room in the house, and test that they are working properly. It's a time to make sure that everyone knows what the alarms sound like, and what to do if they go off as well.
Second, families should develop their escape plan and practice it at least twice a year. Ideally, practice once during the day and once at night. This way, the entire family will know exactly what to do no matter when an emergency occurs.
To find more helpful hints, see this worksheet on the National Fire Prevention Week website.
Fire Prevention
Of course, one of the best ways to protect your family from fire is to do everything you can to prevent a fire from happening in the first place.
Some simple steps to take to prevent fires include:
Following guidance for all electronics and not overloading outlets.

Making sure all smoke detectors work properly.

Keeping a fire extinguisher in the kitchen.

Keep flammable items at least three feet away from sources of heat or fire.

Don't leave burning candles or fireplaces unattended, even for a minute.

Make sure any home heaters are clean and working properly.

Stay in the kitchen while using the stove, and stay in the house while using the oven.
The thought of a fire happening in your house is scary – but following prevention tips and having a safety plan can help you rest assured that you'll know what to do if it does happen.