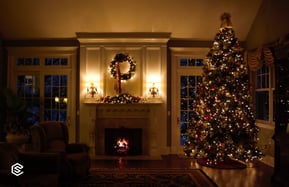 Holiday carols. Twinkling lights. Festive gatherings. The holiday season is in full swing.
With all the fun the holidays bring, safety is often overlooked with the hustling and bustling of the season. While it is easy to forget, it is critical that certain safety precautions are taken throughout the season.
Cooking and Baking
No holiday celebration would be complete without a festive feast but be sure to take precautions against fires when you are cooking and baking. Keep items away from stoves or open flames. Clean up grease spills as you go.
Forty-seven percent of home fires start while cooking, according to the U.S. Fire Administration. Cooking with care is always important, especially during the chaotic holiday preparations. On Christmas Day and Christmas Eve, the numbers of cooking fires were 72 and 52 percent higher than normal.
Christmas Trees
If your family prefers a real Christmas tree, water yours every day because dry needles and wood catch fire more easily. It is safe to use string lights, but make sure you do not plug in more than three strands into each other. If you need more lights than that, you can use a power strip in this case. Do not use light strands that are worn or broken. Be sure to always unplug the lights before leaving the house or going to sleep.
When the tree gets dry and needles are falling off faster than you can clean up, it is time to throw out the tree. Do not leave the dry tree in your garage. Make sure to dispose appropriately to avoid a fire. Dry trees are highly combustible.
When considering a live Christmas tree, please take the proper precautions and keep in mind these statistics:
From 2015-2019, fire departments responded to an average of 160 home fires each year that were caused by live Christmas trees. Annually, the fires caused an average of $10 million in property damage.

One in five live Christmas tree fires were started by holiday light strands.

20 percent of live Christmas tree fires were started by something too close to the tree, such as a heat source.
Fireplaces
It certainly sounds nice to sit around a warm fire on Christmas Eve. Many families will do so ahead of Santa's big night. But there are some precautions to take ahead of time.
Have your chimney inspected prior to using a wood-burning fireplace and only burn dry firewood that has been out of the rain for several months. Keep wrapping paper, clothing, and anything that can become ablaze at least three feet away from the flames. While an open fire sounds enticing, it is important to use a fire screen to keep embers and logs from escaping. Finally, make sure the fire is fully extinguished before calling it a night. Embers may still be burning so always double check before falling asleep.
Indoor Decorations
Indoor holiday decorations can cause a problem if safety precautions are not taken when installing or followed throughout the season. Test all lights and cords and replace any faulty products before use. If you burn candles indoors, always extinguish them before you leave the room or go to sleep.
Place seasonal plants at least three feet away from any heat source. Turn off any decorative lights prior to leaving your home or going to sleep. Never use real candles to light a tree and always be sure to water a live tree every day to prevent it from becoming dry and brittle. Below are just a few safety decoration statistics to consider:
From 2015 – 2019, fire departments responded to an average of 790 home structure fires per year that began with decorations, not including Christmas trees. These fires caused an annual average of $13 million in direct property damage.

45 percent of home fires in December were caused by candles

Candle fires on Christmas day account for 2.5 times the daily average

Two in five house fires were caused by a decoration too close to a heat source
For more safety tips, visit:
Fireworks
Firework safety usually occurs in the summer months, but many New Year celebrations also include these twinkling sparks. If you'll be setting off fireworks at home, choose a location away from buildings and trees. If people are watching, make sure they watch from afar. Keep a supply of water or fire extinguisher at hand. More firework safety can be found on our Fourth of July safety blog.
This time of year is the opportunity to spend with loved ones celebrating what the holiday season is all about. Practice these safety precautions so your celebrations remain bright for all the right reasons.