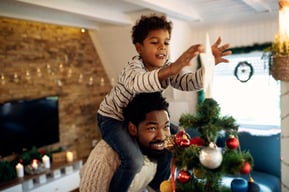 The holidays are a time for many of twinkling lights, warm candles, crackling fireplaces and festive decorations. All of these things help make the season special, but they also can become fire hazards.
There are several guidelines to keep in mind when it comes to choosing decorations, using a fireplace, lighting a menorah or candles, and more. In this blog, we're sharing some rules to keep in mind as you plan your holiday decorating.
Choosing Decorations
Choosing safe decorations is the best thing you can do to help prevent fires from happening in the first place. When choosing your holiday décor, check to see if items are labeled as flame retardant, especially if you'd like to place them near any holiday lights.
And for holiday lights, know that some are meant for indoor or outside use only – but not both. Carefully read the labels to make sure you're buying the correct type for the usage you have in mind. When hanging those lights, you'll also want to use clips, not nails, so that the cords don't get damaged or broken, even on windy or icy days.
Finally, you'll need to consider where you're placing decorations. Keep décor at least three feet away from any fireplace or candles that you plan to light during the season. Make sure also that your decorations don't block any doors or windows, in case you ever need to access an emergency exit.
When it comes to decorating your Christmas tree and keeping those decorations safe, we have an entire blog on the subject. Above all else, make sure you keep a live tree well-watered, and check that no lights are damaged or broken before plugging them in.
Fireplace Safety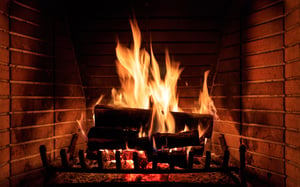 Lighting a fire in your fireplace can be a special experience, bringing cozy warmth into a home on those cold winter days.
If you choose to light a fire in your fireplace, make sure you're doing so safely. Some tips to keep in mind include:
Make sure your chimney is clean and any ashes from old fires have been removed prior to use.

Check that the damper or flue is open before starting a fire, and crack a window, if possible, to help with air quality.

Keep anything flammable at least three feet away from the fireplace.

Keep children and pets at least three feet away from the fireplace; use a gate if necessary. This includes glass fireplaces, as glass can cause severe burns if touched.

Always keep a fire extinguisher nearby, just in case.
With these precautions in mind, a fire in your fireplace can remain a fun – and safe – experience.
Candle and Menorah Safety
Of course, Christmas isn't the only winter holiday. For those celebrating Hanukkah, it's important to keep some candle safety tips in mind.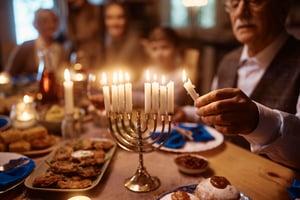 Make sure that you put your menorah on a stable, non-flammable surface. If it's on a table, check while the menorah is unlit that it won't tip over, even if the table is bumped. Keep the menorah out of reach of children and pets.
If children are lighting candles, adults must be vigilant in supervising and be prepared to step in at any moment. When lighting candles to hold, avoid passing lit candles. Instead, have someone dip an unlit candle into a lit candle, to avoid dripping hot wax on anyone or setting dangling sleeves on fire.
When it comes to general candle safety, keep these tips in mind:
Always keep burning candles in sight, and extinguish them before leaving a room.

Keep candles out of reach of children and pets.

Burning candles should be placed at least three inches apart.

Do not extinguish candles with water, as doing so can splatter wax. Instead, replace the lid on a candle holder to put it out.

Extinguish candles that flicker repeatedly, smoke or have a high flame.

Stop using candles that have only two inches left at the end, or ½ inch left in the container.
The holidays are a time for fun with family, friends and loved ones. If holiday lights, fireplace fires or candles are a part of your plans, make sure you're using them safely to keep your people and property safe.