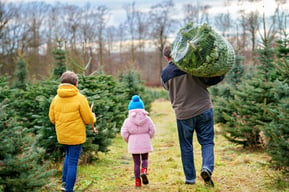 The holiday season is a wonderful time of year, full of bright lights, delicious food and – oftentimes – a festive Christmas tree for those who celebrate the holiday. Christmas trees can be beautiful to look at, but it's important to also take proper fire precautions to ensure that they are fire safe.
In this blog, we're talking about the steps you should take in your Christmas tree selection, placement, lighting and disposal so that you can keep your home and loved ones protected from potential fire threats.
Picking the Tree
Picking a Christmas tree can be exciting, especially if your family is spending an afternoon selecting a live tree. You might be focused on finding the perfect size or shape, but make sure you also consider the health of the tree.
A dry tree is an incredible fire hazard. Make sure that the tree you choose for your home has fresh, green needles that don't fall off when touched. This indicates that it is well watered and less likely to catch fire. Also make sure the stump is long enough to trim once you get home, so that you can keep it well watered at your residence as well.
Many people think artificial trees are safer when it comes to fire hazards, but this isn't necessarily true. While many artificial trees may be fire retardant, you should make sure that your tree is labeled as such before buying. If using an unlit tree, make sure not to overload the outlets around the tree with any lights you add. Many pre-lit trees have been recalled due to fire hazards, so always check that your model has not been, and annually inspect the tree for any exposed wiring or cords between lights that aren't plugged in entirely.
Placing the Tree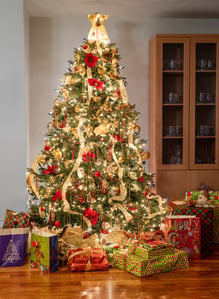 Whether you opt for a live or artificial tree, it's extremely important to ensure the tree is at least three feet away from any heat source, such as fireplaces, space heaters, radiators and furnaces. More than one in every five Christmas tree fires is caused by a tree being too close to a heat source, according to the National Fire Protection Association.
If you're using a live tree, you'll want to cut two inches from the base of the trunk when you get home before putting it into the tree stand. Once placed, make sure there's water in the stand, and be sure to water the tree every day to keep it from drying out. This step is crucial – and this video can show you what a difference it can make if your tree does catch fire.
Finally, be sure your tree isn't blocking any exits when you choose where to place it. The last thing you need during an emergency is to find your way out of the house blocked by a Christmas tree.
Lighting the Tree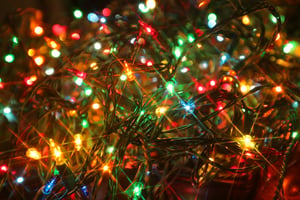 Part of the beauty of a Christmas tree is lighting it up at night. Before you hang any lights on your tree, make sure you're using the correct kind – many lights are tested and approved for only indoor or outdoor use, and you need to use the correct type.
Always check your light strands as well to see if there is any wear or damage, and replace them if there is. Read the light boxes to see if there's guidance on how many strands you can safely plug together. Use safe, approved extension cords as needed, and do not overload outlets as this can be a fire risk as well. Keep in mind: almost one-third of home Christmas tree fires are caused by electrical problems. You don't want to skip these steps!
Also, turn off the lights on the tree before leaving the house or going to bed. Christmas trees are beautiful and you may want to show it off to your neighbors, but only do so when you're up and about and able to monitor for any issues.
Disposing the Tree
When Christmas is over, it can be tempting to leave the tree up for a bit – but the longer you leave a live tree up, the dryer it can become. Because of this, you should dispose of a tree quickly, and keep it well-watered until you're able to do so.
Never burn a Christmas tree; the needles can be a huge fire risk, and Christmas tree fires can get out of hand in a matter of moments. Instead, look to see if your area offers free Christmas tree disposal programs, or if your trash collector provides this service. Many cities and towns offer Christmas tree disposal spots for free.
At CertaSite, we want to keep your people and your property safe from fire threats and other emergencies. To learn more about how you can prepare for cooking fires, lightning strikes, severe weather and more, check out other articles on our blog.