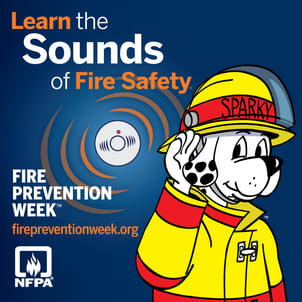 Yes, it's that time of year again. October arrives tomorrow, which means NFPA Fire Prevention Week and National Fire Prevention Month are in sight. Running from Oct. 3 – 9, Fire Prevention Week is NFPA's signature fire prevention awareness event, which was originally launched in 1922. The theme of this year's campaign is "Learn the Sounds of Fire Safety™."
This year's theme is due to the increased awareness and attention that alarm notifications received during quarantine and people learning and working from home. The heightened awareness in recognizing the different sounds alarms make, and the action needed based on that sound, is critical in live saving situations. This year's theme will look at smoke and carbon monoxide detectors along with other alerting devices that meet the needs of the hearing impaired.
What's the Difference Between Smoke and Carbon Monoxide Alarms?
For varying reasons, both alarms are important to have inside the home. Smoke alarms are made to detect smoke before you can, thus alerting you to a potential emergency. It's incredibly important to have smoke detectors in almost every room of your dwelling, including hallways and in basements. They don't need to be in bathrooms or kitchens. If there's a fire, you may have mere minutes to escape, so it's important to have alarms in the majority of rooms within your house.
With carbon monoxide detectors, it's equally important, if not more. Carbon monoxide is an odorless, colorless gas that displaces oxygen in your body and brain and can render you unconscious before you even realize there's an emergency. Carbon monoxide is a silent killer and can poison someone within a short amount of time. Carbon monoxide alarms can detect and alert you before it ever reaches emergency levels.
Basics of Smoke Alarms
About three out of five fire deaths occur in homes without working smoke alarms. These are a key part in protecting yourself and others inside your home. The NFPA recommends homeowners:
Replace all smoke alarms that are more than 10 years old

Tests smoke alarms every month

Replace batteries each year

Place smoke detectors away from kitchen and 10 feet from the stove – this is to reduce false alarms

Install smoke detectors on the ceilings or high on walls in bedrooms, hallways, living areas, and basements

Have special alarms for the hearing impaired, for example: strobe lights or bed shakers
Smoke detectors are so common that it's easy for many to take them for granted.
Basics of Carbon Monoxide Detectors
More than 400 people in the U.S. die each year from unintentional carbon monoxide poisoning. More than 200,000 visit emergency departments with more than 4,000 others hospitalized. Carbon monoxide is silent and odorless and is produced by burning fuel in vehicles, stoves, lanterns, grills, portable generators, and more. In enclosed space where most of these items are held, the gas builds up and those who breathe it can be poisoned.
To prevent carbon monoxide poisoning, it's important to remember these tips from the NFPA:
Do not use portable chemical heaters indoors

Do not use a gas oven to heat your house

Do not use a generator inside your home

Never run a car in the garage with the garage door closed

It's important to have your chimney, furnace, water heater, and any other gas or coal-burning appliance checked, cleaned, and serviced annually
With the winter months ahead, this time of year is prime for potential carbon monoxide poisoning with people using space heaters and warming their cars in their garages. It's important to take the extra steps to prevent any mishaps and unintentional carbon monoxide poisoning.
Sounds of Fire Safety
As mentioned earlier, this year's theme is "Learn the Sounds of Fire Safety." Do you know what one chirp from your smoke detector means? What about beeps from your carbon monoxide detector? Well, good thing you're reading this because we'll break down what your alarm is telling you.
When it comes to smoke detectors and the alarms they emit, a continued set of three beeps means a fire or smoke has been detected. Evacuate the building immediately. If a smoke detector chirps frequently, it means the battery must be changed. Any chirping after the batteries have been replaced indicates the detector itself must be replaced.
Taking a look at carbon monoxide detectors, four loud beeps indicate carbon monoxide is present in the dwelling you are inside. It's important to immediately evacuate and call 911. As with the smoke detector, a single chirp every minute means the battery needs to be replaced. For a carbon monoxide detector, its manufacturer will determine its end-of-life sound and when that happens. When you hear the designated sound per manufacturer, it's critical to replace the detector with a new one. Finally, as with the smoke detector, a continuous chirping after batteries have been replaced indicates the device must be replaced.
For more information about smoke and carbon monoxide alarms along with frequently asked questions, visit NFPA's Fire Prevention Week.
About Fire Prevention Week
The NFPA has sponsored the public observance of Fire Prevention Week since 1922. In 1925, Fire Prevention Week was proclaimed a national observance by President Calvin Coolidge, making it the longest running public health observance in the United States. Throughout the week, people of all ages can learn how to stay safe in the event of a fire and firefighters provide lifesaving education to the public.
Fire Prevention Week is always observed during the week of October 9 in commemoration of the Great Chicago Fire, which began on October 8, 1871. The Chicago Fire killed more than 250 people, left 100,000 people homeless, destroyed more than 17,400 buildings and burned more than 2,000 acres of land.