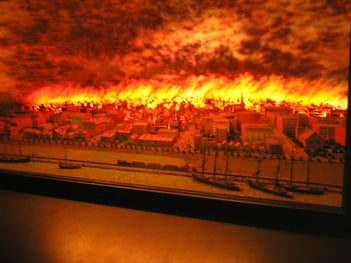 How often do you think about fires – fires at your home, your workplace or your favorite coffee shop? Once a week, once a month? For many of us, the answer might be "never" – and there's a reason for that.
Fire prevention and safety has come a long way over the past several centuries – so much so that the idea of a fire happening at work or home might be far from your mind. But, fires used to be fairly common, and due to lack of preventative measures and awareness, they could quickly destroy entire communities or even cities.
National Fire Prevention Week starts October 4th, and in honor of the week, we're talking about the history of fire safety and the historical fires that helped us understand the need for regulations and fire prevention measures. We'll also be sharing fire safety tips in the coming weeks on social media, so be sure to follow us to learn how to help keep you and your loved ones safe.
A nearly 100-year-history honoring the Great Chicago Fire
Fire Prevention week started in 1922 and is sponsored by the National Fire Protection Association (NFPA). President Calvin Coolidge proclaimed Fire Prevention Week a national observance in 1925 – making it the longest-running public health observance in the United States.
The timing of the week is meant to coincide with the anniversary of one of America's most notorious fires: The Great Chicago Fire.
Legend has it that the fire started on a property owned by Mrs. O'Leary, and the story goes that her cow kicked over a lantern that started the fire. The fire quickly swept through the city, destroying thousands of acres, and leaving hundreds dead and thousands more homeless.
What we do know about that fire is this:
The fire truly did start on Mrs. O'Leary's property - though it's unclear if a cow caused it.
The fire began on Oct. 8, 1871, and burned until Tuesday, Oct. 10.
More than a third of the city was destroyed in the fire.
At the time, the city was in the midst of a bad drought and experiencing high winds – and most of the city's structures were built of wood, a deadly combination for a fire.
At that time, there were no fire engines as we know them today. Instead, firefighters used steamers pulled by horses that used coal to run the pumps of water.
As the fire swept through the city, people survived by seeking refuge in rivers or Lake Michigan.
All told, the fire killed more than 250 people, left 100,000 people homeless, burned more than 17,400 structures to the ground and destroyed more than 2,000 acres.
Other Historical Fires
Of course, fires also occurred in other cities, showing the need for fire safety measures. Here are some other fires that changed the way firefighters and public officials thought about public safety.
Great Portland Fire of 1866
In Portland Maine, this fire began on the first Independence Day after the end of the Civil War. At the time, it was the greatest fire ever seen in the United States. It started on a boat, most likely from a firecracker or cigar. The fire spread to a lumber yard and then across the city. While only two people are known to have died in the fire, about 10,000 people were left homeless, and 1,800 buildings were destroyed.
Great Boston Fire of 1872
As Boston's largest fire, this fire still ranks as one of the most costly fires in American history. The fire began in the basement of a warehouse, and it took 12 hours to be contained. 776 buildings were destroyed, causing roughly $73.5 million in damages – about $1.4 billion in today's money.
The city's chief engineer, John Damrell, had warned the city that there wasn't enough water infrastructure throughout the city to support the need if there were a large fire, but his warnings were ignored. As a result, during the fire firefighters struggled to find fire hydrants with enough water pressure to adequately fight the flames. It was efforts to save the Old South Meeting House by covering it with wet blankets and rugs that eventually stopped the fire, because it created a fire break.
In 1873, Damrell would go on to found the National Association of Fire Engineers, and he later served as building inspector for the city of Boston. It's thanks to Damrell that much effort went into establishing a national, standardized building code, which was finally finalized in 1905, the year of his death.
Great Seattle Fire of 1889
This fire destroyed the entire business district of Seattle Washington. An overturned glue pot in a carpentry shop started the fire, and the fire soon spread to the wood chips and turpentine-covered floor. From there, the fire spread down the block, causing a nearby liquor store to explode, and the alcohol continued to fuel the flames.
By the next morning, the fire had burned 25 city blocks, including the business district, four wharves and several railroad terminals. Fortunately, only one person was killed – although more than 1 million rodents were killed in the blaze, and several people died during cleanup efforts. In response to the fire, the Seattle Fire Department was officially established, replacing a volunteer organization, and the city increased the number of hydrants and added larger pipes to prevent drops in water pressure while fighting a fire, among other reforms.
Fire Safety Today
Common issues plagued those early fires – lack of adequate access to water, the use of flammable building materials in cities, and a lack of professional fire departments.
Today, many measures exist to keep you safe everywhere, from your home to your workplace. For example, you might think that wide streets simply help with traffic flow – and they do – but they also are designed to provide fire breaks between buildings in case a fire does break out. Buildings are now designed with fire prevention in mind, including exterior materials that are fire resistant – both to prevent the spread of a fire into that building, or prevent fire spreading from that building to others.
Hydrants are regulated, as are the pipes that supply water to them. Professional fire departments were created – including the first professional fire department of full-time employees, created in Cincinnati, Ohio in 1853 – and became a more widespread practice over time.
Fire safety may be much better than it once was, but it's still important to think about fire safety measures that you can take for yourself. For more tips about how you can keep your family safe, follow us on Facebook and LinkedIn as we share fire safety tips, or learn more on the NFPA's website.