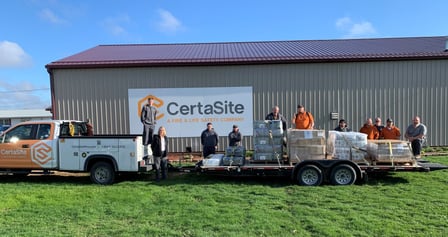 INDIANAPOLIS, Ind. – CertaSite, a commercial fire protection and life safety company, announced today that its charitable giving arm, CertaSite Serves, has collected more than 4,400 animal supplies for local Humane Societies in the 16 markets where CertaSite has offices, including more than 290 items at their Indianapolis headquarters. This overall amount well exceeded the company's original goal of 1,000 supplies.
CertaSite's Bettendorf, Iowa and Fulton, Ill. branches received a generous donation of more than 1,900 items from the Nestlé Purina PetCare pet food production facility located in Clinton, Iowa to benefit the Clinton Humane Society. Purina manufactures some of the world's most trusted and popular pet care products, including Purina ONE, Pro Plan, Fancy Feast and Tidy Cats.
"We can't thank Purina enough for their gracious donation to the Clinton Humane Society and our Humane Society donation drive," said Jeff Wyatt, CEO of CertaSite. "Humane Societies rely on the generosity of their supporters. These donations will go a long way in supporting the Humane Societies and the wonderful care they continue to provide their animals."
"At Purina, we're all pet lovers, and it's our mission to enrich the lives of pets and the people who love them," said Roger Brecht, Purina Factory Manager in Clinton. "Purina is proud to donate critical pet supplies so animal shelters can continue providing incredible care for dogs and cats in our region."
The donation drive ran from March 10 – April 15. CertaSite decided on this community initiative because of the immediate supply need at most Humane Societies. Many shelters are at or near capacity and rely heavily on their community so they can provide the necessary care for their animals.
"I'm continually amazed by our employees and the community efforts they put forth throughout our CertaSite Serves campaigns," continued Wyatt. "Our team have the biggest hearts and I'm just so honored to work alongside them. CertaSite is more than fire extinguishers. We have a commitment to our communities and continue to provide a meaningful impact to our neighbors."
CertaSite partnered with the following Humane Society branches:
This is CertaSite Serves' third community initiative. Last year, the company stepped up in a big way by collecting more than 7,500 pounds of food and essential items in response to COVID-19. Over the 2020 holiday season, the company partnered with Toys for Tots and donated more than 1,000 toys to make the holidays a little brighter for kids.
About CertaSite
CertaSite goes beyond compliance to provide the highest levels of customer service, responsiveness, building safety and code compliance to customers across the country. With a customer-focused approach, the company emphasizes partnerships and professionalism while providing customers a simplified and dependable solution to managing all of the fire protection and life safety systems.