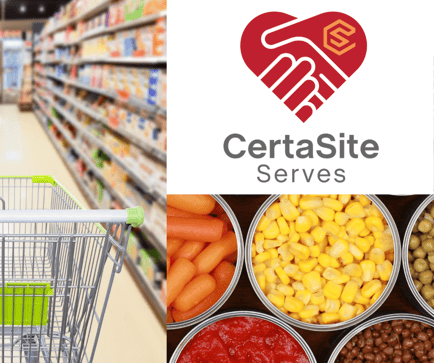 (Indianapolis, Ind.) Life safety and fire protection company CertaSite announced today that CertaSite Serves, its charitable giving arm, has collected more than 7,500 pounds of food and essential items as part of a recent company-wide food drive. The items will be delivered to food banks and community organizations in nine local markets where CertaSite has offices.
The food drive was launched in response to the COVID-19 pandemic. It ran from July 27 through Aug. 21, and more than doubled its original goal of 3,600 pounds of food and essential items.
"I'm so proud of our team, as well as our customers and community members, for stepping up and supporting our neighbors during a challenging time that has impacted every American," said Jeff Wyatt, CEO of CertaSite. "It's clear our people have the hearts for this kind of work, and the commitment to show our communities that we are more than fire extinguishers. We are a compassionate hand to those in need."
The following partners are the recipients of the donations:
CertaSite Serves also collected monetary donations for its partner organizations. For every new follower on Facebook and LinkedIn during the drive, CertaSite donated $1 toward the local community to buy more food, for a total of $200.
"At our core, our company's purpose is to protect and enhance as many lives as possible," Wyatt continued. "CertaSite Serves supports this purpose by expanding our impact beyond the life safety systems that we install, inspect, repair, and maintain. We're here to offer a helping hand and provide a meaningful impact to our neighbors in need."
CertaSite already has acquired nine fire protection and life safety companies, and is actively engaged in bringing new businesses under the CertaSite umbrella. To date, the CertaSite family includes: Advanced Fire Companies (Pittsburgh, PA); ABC Fire Extinguisher Co. (Youngstown, Ohio); Approved Protection Systems (Michigan); Approved Safety and Security (South Bend, Indiana); Company One Suppression (Illinois and Iowa); County Fire Protection (Ohio); Erlich Fire Protection (Michigan); Field's Fire Protection (Michigan); and Spears Fire & Safety (Michigan). Headquartered in Indianapolis, CertaSite primarily serves customers in the Midwest, with plans to strategically grow in new markets. Markets of focus for 2020 include Illinois, Indiana, Kentucky, and Tennessee.
About CertaSite
CertaSite is a commercial fire protection and life safety company founded in 2018. We take a new approach to fire and life safety, going beyond compliance to give our clients an unmatched level of customer service and tech-based control over their fire and life safety systems. Our team of experts serves 13 locations. CertaSite is headquartered in Indianapolis. Visit www.certasitepro.com for more information.