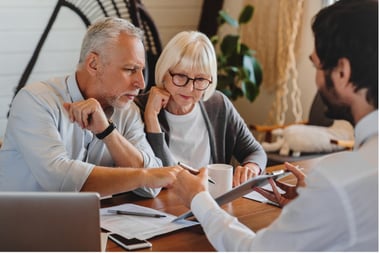 After achieving success as a business owner, you may decide it's time to sell your business. Maybe you're ready to retire, maybe you want to hand over the reins and take on a smaller role. Whatever your reason, this major decision may be the best for you, your company, customers, and employees.
Before we get into the benefits of selling your business, let's go over what an acquisition is and how it differs from a merger. Though these terms are sometimes used interchangeably, they are different.
Acquisition vs. Merger
An acquisition is the act of buying another business, whereas a merger is when two or more companies come together to form one. In a merger, ownership interests may differ, whereas with an acquisition there's not that issue.
With an acquisition, the smaller acquired company benefits by becoming part of the larger acquiring company with more assets and resources. A merger doesn't work that way, the merging companies consolidate into one new entity and brand, diluting each company's individual power.
Benefits of Being Acquired
With an acquisition comes many benefits. As a business owner, it's important to see what real advantages there are for you, your employees, and customers if you are considering selling your business.
Opportunity for Employees
One of the concerns owners have when considering selling is the effect it will have on current employees. Upon an acquisition, the preferred fire and life safety company will retain quality staff. A preferred fire and life safety company will safeguard your employees and enable them to grow personally and professionally through learning and development programs.
Ideally, the business you sell to should have programs and benefits in place that complement and expand your own and provide your employees with a secure, opportunity-filled future. This gives you, as the seller, the peace of mind that your employees will be taken care of.
Company Growth
Being acquired by a preferred fire and life safety company can bring more resources, reduce costs, eliminate duplicated facilities or departments, and increase revenue.
Selling your business can also result in company growth through:
Enhanced employee benefits, training, and education, and more opportunities for upward mobility

Expanded offerings to existing customers, a one-stop shop

Access to capital to continue to grow the business

An opportunity for owners who stay with the company to focus on their strengths

Access to marketing and IT departments

Innovation team
Life Safety Made Easy
A preferred fire and life safety company acquiring your business has the products, services, and capabilities to be a single, trusted partner for your customers. In addition to consolidating products and services, a company looking to buy your business should provide customers with an easy-to-use portal to track all their reporting and budgeting for all their systems onsite.
Your customer's time is precious so providing a one-partner solution with leading technology can save your customers time and money in the long run. It also provides you with the knowledge that your customers and the relationships you've formed with them are being well taken care of and your legacy is being protected.
Financial Stability
Selling your fire and life safety company can provide you and your loved ones' financial security to enjoy throughout your retirement. One of the main reasons people want to sell their company is because they're ready to move on, retire, and enjoy everything life has to offer. Being acquired allows you to comfortably do that. If you're considering moving on from your business, then being acquired is probably the best option. It protects the interests of your employees and customers while safeguarding your legacy and providing you with the financial stability to enjoy whatever comes next.
Though you do want to get a fair price for your business, it is important to also consider other factors. These factors include the caliber, the reputation, the references, the culture, the chemistry, and the trust of the buying company you are going to partner or sell to.
When selling your business, most owners are focused more on the quality of people they will be partnering with, the safeguarding of their legacy, employees, and customers, and the benefits that can be offered as a result of being acquired. You want to make sure the preferred fire and life safety company is the right match for you and your company so you can be sure they are safeguarding your legacy.
CertaSite already has acquired 12 fire protection and life safety companies and is actively engaged in bringing new businesses under the CertaSite umbrella. To date, the CertaSite family includes: ABC Fire Extinguisher Co. (Ohio); Advanced Fire, a CertaSite Company (Pennsylvania); Approved Protection Systems (Michigan); Approved Safety and Security (Indiana); Company One Suppression (Illinois and Iowa); County Fire Protection (Ohio); Erlich Fire Protection (Michigan); Field's Fire Protection (Michigan); Great Lakes Fire & Safety Equipment (Michigan); Spears Fire & Safety (Michigan); Starfire Systems and Starfire Suppression Equipment (Wisconsin); and Marine Fire Sales & Service (Ohio).