Is it us, or does time continue to move faster? Here we are, one day until a year ends and a new one begins. Wow, it's hard to believe. As the year is quickly coming to a close, here at CertaSite, we've been thinking about all we've accomplished in 2022.
We are one step closer to our vision of being the most dependable and simplified life safety solution on the planet. Let's celebrate and reflect on how we accomplished our mission and the amazing impact we made on the many lives we touched in 2022.
Continued Growth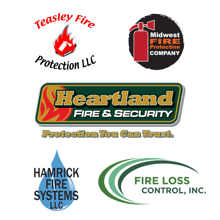 In the last year, CertaSite welcomed six incredible companies to its family: Teasley Fire Protection (Frankfort, KY) in February, Midwest Fire Protection (White Pigeon, MI) in April, Heartland Fire & Security (Davenport, IA) in May, Hamrick Fire Systems (Columbus, OH) in July, the service side of Burnside Fire Protection (Cincinnati, OH) in August, and Fire Loss Control (Brunswick, OH) in August. These six successful companies together totaled more than 100 years in the fire and life safety industry. With the addition of these six companies, CertaSite moved into a new state (Kentucky), expanded its reach in Iowa, Michigan, and Ohio, and welcomed 47 new associates who are now on our journey with us.
With acquisition growth comes people growth. At CertaSite, we hit a major milestone as we welcomed our 400th associate on our journey. Our growth has been strategic and intentional with a focus on life safety technicians. While we're proud of the growth we're seeing, there's still work to be done and more opportunities to offer in the new year.
Highlights
The last year has been an incredibly exciting year. We added two key members to our leadership team this past year: Brian Paplaski joined CertaSite in August as our new CFO and Kara Ferguson joined CertaSite earlier this month as our new human resources director. Both Brian and Kara are part of the leadership team and have already made great contributions to our organization. Having them and their experience is a great strength for CertaSite and our future.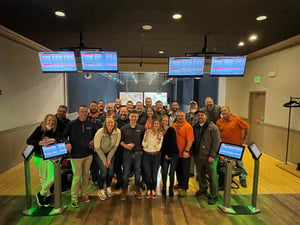 A big highlight this year was our manager meetings, with the first one held in April. Both were hosted at CertaSite headquarters. Managers from each branch and region gathered for some incredible workshops, team building, camaraderie, and, of course, fun.
Throughout the almost three-day event, our associates learned key takeaways to incorporate in their branches and amongst their teams, including customer journey sessions, ways to make the workplace fun, and leader mentorship.
In addition, management teams across the company participated in three planning sessions throughout the year occurring separately at each branch. These sessions focused on business planning, accountability chart review, issue resolution, goal setting and learning new tools.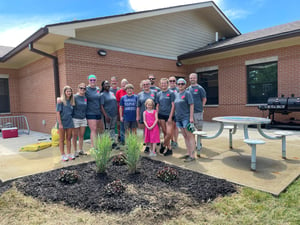 We also gave back to our communities through our CertaSite Serves giving arm where we participated in volunteer initiatives that included the Marine Toys for Tots Foundation, Adopt-a-Highway program in Michigan, and a service day with the United Way of Central Indiana, just to name a few.
For the Toys for Toys campaign, our amazing CertaSite associates collected more than 1,500 toys for the less fortunate children of our communities. The Adopt-A-Highway program was led by our East Michigan region, and they adopted a highway between our Sterling Heights and Ann Arbor locations. On their first clean-up, they collected more than 50 bags of trash to make our environment, community, and highway look nicer. And, finally, the CertaSite corporate office held a service day with the United Way of Central Indiana. The team volunteered for the Lutheran Child and Family Services of Indiana/Kentucky by pulling weeds, building a bike rack and memorial bench, and sprucing up the landscape with mulch beds and shrubs. Our associates love giving back, and we're so proud of the work they do throughout our communities.
Another initiative we rolled out this year was the CertaSite Safety Team. Safety is critical to the impact being made by CertaSite. Many decisions and actions we make daily have a direct impact on the safety of our associates, as well as customers we protect and serve. The CertaSite Safety Team was launched in June and is taking all the necessary steps to bring awareness to important safety topics that will help eliminate and reduce personal injuries and improve the overall environment we work in every day.
Lives Impacted
Speaking of safety, our customers are why we do what we do. In 2022, CertaSite took care of thousands of customers. If we look closer, it's amazing to think about the individual number of actual people we've impacted in a meaningful way. We wouldn't be able to serve this many people without our amazing life safety technicians and all associates at CertaSite.
We're in the business of providing a meaningful impact to as many lives as possible. The impact we're having on people, businesses, and owners is incredible and not to be forgotten. It's important to remember why we're here, why we do what we do each day.
As we continue our mission to deliver the most dependable and simplified life safety solution on the planet, it's always fun to look back at the year we've had and see our growth and appreciate the dedication and hard work of all CertaSite associates.
In 2023, we celebrate five years in business. If the last four years are any indication of what's to come, stay tuned, because it's something you won't want to miss.
Happy New Year!