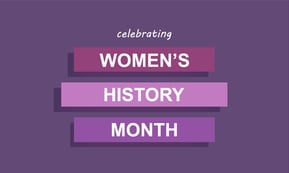 March is Women's History Month, which celebrates women's contributions to history, culture, and society. It has been observed annually since 1987. This month CertaSite is recognizing and honoring the trailblazing women in our industry and around the world whose dedication, determination, and resiliency inspire the women of today and tomorrow.
Women's History Month was established after a weeklong celebration in 1978 organized by the school district in Sonoma, California. Presentations, parades, and essay contests were held to recognize and celebrate achievements of women.
Years later, more communities and schools started participating across the country and in 1980, President Carter issued the first presidential proclamation declaring the week of March 8 as National Women's History Week. In 1981, Congress passed a resolution establishing a national weeklong celebration. It was not until 1987 that the celebration was extended to a month.
International Women's Day
In celebration of Women's History Month, International Women's Day takes place globally on March 8. This is a global celebration and recognition of the economic, political, and social achievements of women, first occurring in 1911. Celebrations around the world include demonstrations and educational initiatives. Since 1975, the United Nations has sponsored International Women's Day.
Women's History Month Theme
As seen with many recognitions throughout the year, Women's History Month also has a theme. This year's theme is "Women Providing Health, Promoting Hope." The theme is a "tribute to the ceaseless work of caregivers and frontline workers during this ongoing pandemic and also recognition of the thousands of ways that women of all cultures have provided both healing and hope throughout history." This is incredibly fitting for the fire protection and life safety industry in which we recognize women on the fire and emergency frontlines for everything they are doing to advance the industry.
Women in Fire Protection and Life Safety
When it comes to the fire protection and life safety industry, women are making positive strides. According to a recent NFPA (National Fire Protection Association) report, only 93,700 out of the 1,115,000 firefighters in the United States are female, equating to 8 percent. In comparison, 13 percent of police officers or detectives are female and 12 percent of paramedics and EMTs are women.
In 1982, Women in Fire formed with approximately 200 members. Women in Fire speaks specifically for women in their specific fire industry profession. Members range from women firefighters and officers to inspectors, dispatchers, and fire service educators. Members are from diverse backgrounds and are committed to their profession.
Women in Fire has helped establish standards for firefighter qualifications through the NFPA and they often participate in advisory groups providing input to the National Fire Academy. They provide education, support, and advocacy for women in fire service. Women in Fire is their voice to the fire service industry.
The fire service industry is becoming more diverse, frequently recruiting females to fill an array of fire service opportunities. These women hold many different roles, including firefighter, officer, chief, paramedic, arson investigator, training instructor, and more. Even though they have different roles, they are one community. One community of fire service women looking to make a difference in the industry for future females and young girls with aspirations of being heroes in the fire protection and life safety industry.
Enjoy these historical facts about women in fire service:
1815: the first known female firefighter is Molly Williams from New York City. She becomes a member of the Oceanus Engine Company #11.
1859: San Francisco heiress Lillie Hitchcock Coit becomes an honorary member of the Knickerbocker Engine Company #5 as a teenager.

1910: women's volunteer fire companies emerged in Silver Spring, Maryland, and Los Angeles.

1920s: Emma Vernell, age 50, becomes the first woman officially recognized as a firefighter by the state of New Jersey.

1930s: Nancy Allen becomes the fire female fire chief in the world. She serves for the Cedar Hill Volunteer Fire Department in Rhode Island.

During WWII, women across the country volunteers for fire services to fill the roles left by men who were called by the military. Two Illinois fire departments were staffed entirely by women.
1960s: all-women fire companies evolved in California and Texas.

1973: the first of two women begin paid roles as firefighters. The first one, Sandra Forcier, in North Carolina, and the second, Judith Livers, in Virginia. Both later retired at the rank of battalion chief.

1982: Women in the Fire Service, Inc. is founded.

2002: Rosemary Roberts Cloud becomes the first female African American fire chief in the United States.