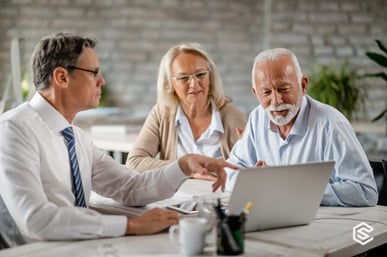 The time has come. You have reached a point in your career where you have achieved great success with the company you built and now want to enjoy the fruits of your labor. You're considering selling your fire and life safety business. You are ready but aren't sure what to expect throughout the process.
Many qualities that make an owner successful in originally building their business should also make them successful when they sell. The whole selling process can be daunting if you don't know what to expect so let us help by breaking down some of the components of the process.
Preparing to Sell
The entire acquisition process – from start to finish - can take several months or years, depending on the size of the company and due diligence. It's important that owners come up with a plan and outline what their ideal goals and outcomes are in the event of a sale.
Two questions you could ask yourself when preparing to sell would be:
Do I sell to a strategic buyer or a financial buyer?

Do I want to stay with the company once it's been acquired?
Both of these questions can lead you down the path that's right for you, your fire and life safety business, and your employees.
It's also important to surround yourself with a knowledgeable team, whether it's accountants or advisors, who have experience in the fire and life safety industry. Having a team surround you who can gather data, organize financial statement, or be a consultant to lean upon will better equip you and your business for a sale.
Finding the Right Buyer
When selling, you have two options: sell to a strategic buyer or financial buyer. While each has their own pros and cons, it ultimately comes down to your decision and what you feel is best for the company, employees, customers, and you.
We'll start with financial buyers. They care all about the numbers. These buyers are typically financial firms or professional investors who are in the business of buying and selling companies. They are strictly interested in getting a financial return by purchasing a company.
These buyers care about the return on investment (ROI). What does this mean for you? It means you could probably find a financial investor willing to pay more if you can tell the perfect story (ex: show strong, reliable profits for consecutive years).
With strategic buyers, you're going to encounter people who are focused on how an acquisition can complement and add to their existing business and or businesses.
A strategic buyer looks at the opportunity to grow the companies together rather than individually. A combined company is greater than an individual one. There are many pros to the synergies of a strategic sale, including access to new markets, expanded product offerings, and increased talent pool.
You'll want to consider both types of buyers, weigh the pros and cons, and see what route you ultimately want to go down.
During the Sale
It's vital that you operate your business efficiently during the sale process. Only disclose the sale to close contacts and those you trust. This can avoid a great amount of anxiety from employees and/or customers.
Once things get rolling and you are in agreement with a buyer, a non-disclosure agreement (NDA) should be exchanged and a letter of intent (LOI) should be issued. The LOI outlines the major terms of the sale and is a non-binding offer.
Once the LOI has been presented, all due diligence will take place. This consists of operational, financial, environmental, and legal aspects. It's incredibly important you, as the owner, have everything in line and prepared. Your advisors will know what documents and assets you'll need to present and will assist in gathering all necessary paperwork and items.
One important aspect to note that will be addressed in this phase, or prior, is how you, as the owner, want to transition the business. Will you decide to stay on in a different capacity? Will you leave immediately upon completion of sale? Whatever you decide, it's your decision and it's important to discuss this early on.
After the Sale
Once all due diligence is complete and processed, the closing occurs. In this phase, typically the previous owner's involvement doesn't end immediately. Most stay on for a couple months to help with the transition. This shows the employees and customers how committed and devoted the former owner was to his or her legacy and the company he or she built.
Selling a business you've built isn't an easy decision. Most people don't know what it entails and how the process works. Some reminders to always consider when selling your business include:
Seek the advice of accountants and attorneys in your specific industry. You need qualified accountants, attorneys, and advisers who have extensive experience in the sale of a business, particularly within your industry.

Have a history of audited financial statements or reviews. These outside documents will provide details that buyers want to see and shows just how prepared your business is in terms of financial accountability.

Have solid records of your assets. A detailed inventory list is important here. Also be ready to share your client list, work logs, and anything else you feel is important. Nothing is out of the question and it's better to prepare and offer more documents and information than less.

Be realistic. You may have all these dreams and visions that you're going to get paid in all cash immediately at close. Or you're going to sell for three times what your company is worth. That's probably not going to happen. These things may seem obvious, but a lack of experience with selling businesses results in some sellers having wholly unrealistic expectations and being naïve about the process.
Once the process is complete, owners can expect to have the mixed emotions of excitement and achievement, coupled with sadness and loss. The emotional fallout associated with the sale of a company is real. This is something you've built from the ground up. Your employees are family, your legacy is real. Owners pour their heart, soul, and energy into growing a business that can succeed on its own.
The most important thing left after the sale is the legacy you, as the former owner, created. At CertaSite, we promise to safeguard everything you've grown. Because like you, we're in the business of safeguarding things, including your legacy.