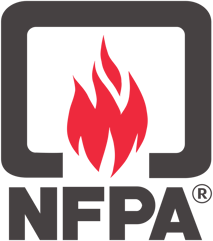 When it comes to fire protection and life safety, it's important to pay attention to codes and standards that affect your industry and business. Having a basic understanding of the most common fire protection codes will help you stay compliant, and will also give you peace of mind that your people and property are protected.
Fortunately, the National Fire Protection Association (NFPA) publishes a list of codes and standards that define the requirements for these safety measures. There are more than 300 codes, detailing everything from requirements for fire hydrant testing to fire extinguisher placement.
Fire protection and life safety professionals stay up to date on all of these codes year-over-year, as they're updated to account for changes in technology or research. However, there are some codes that everyone should be aware of – especially business owners or stakeholders who make decisions around fire protection and life safety systems.
Check out the list below to see what areas you should be sure to pay attention to.
1. NFPA 1 - Fire Code
The NFPA 1 code is the overarching fire code – one of the most basic codes, and also one of the most important. This code covers all of the general needs in fire code regulation, and it also references more than 130 additional NFPA codes and standards, which go into greater detail about various aspects. In essence, NFPA 1 outlines the most basic – and crucial – safety measures when it comes to fire protection.
2. NFPA 70 - Electric Code
One of the other most basic but critical codes is NFPA 70, which addresses electrical safety. This code details the crucial safety measures for all electrical design, installation and inspection. Following this code is required in all 50 states, as its guidelines help protect people and property from electrical fires and other risks.
3. NFPA 101 - Life Safety Code
NFPA Code 101 is one of the most widely known codes: the Life Safety Code. It outlines ways to protect people from various hazards and safety issues based on building construction itself, hazard protection and occupancy guidelines. It's also the only document that covers life safety in both new and already-existing structures, making it the gold standard. It can be used in conjunction with other building codes, or on its own.
4. NFPA 13 - Standard for the Installation of Sprinkler Systems
Sprinklers are common in many buildings as a means to stop any fire that my occur. NFPA Code 13 talks about optimal design and installation of sprinkler systems, and it discusses what options can best prevent property loss or loss of life in the case that a fire breaks out.
5. NFPA 25 - Standard for the Inspection, Testing, and Maintenance of Water-based Fire Protection Systems
If you own or oversee a building for your business, you likely know you need sprinklers – but do you know the specifications for how those sprinklers should work? Keeping these systems in optimal condition is a very complex process, and NFPA Code 25 lays out the needs for inspecting, testing and maintaining water-based fire protection systems.
6. NFPA 72 - National Fire Alarm and Signaling Code
From an employee and employer perspective, one of the most critical parts of any fire protection and life safety system is the signaling. This is the part of the system that lets everyone in the building know there's an emergency, and that they need to evacuate. NFPA Code 72 details the changing needs when it comes to fire detection, signaling and emergency communication demands. This code also goes beyond just fire safety, and includes regulations around communications for weather emergencies, terrorist events, biological, chemical and nuclear emergencies, and more.
7. NFPA 10 - Fire Extinguisher Guidelines
Fire extinguishers are a great first line of defense against small, contained fires – as long as they're working properly, and as long as you have the correct ones. NFPA Code 10 provides requirements and guidelines for portable fire extinguishers, to help ensure that they work when you need them the most.
8. NFPA 720 - Standard for the Installation of Carbon Monoxide (CO) Detection and Warning Equipment
Fire threats may be the most obvious concern when it comes to fire protection and life safety systems – but carbon monoxide can prove just as deadly if there's a leak. NFPA Code 720 details the proper installation, location, performance, testing and more for carbon monoxide detectors and warning systems.
9. NFPA 220 - Types of Building Construction
This code is particularly important to builders, but it's also good to know for building owners or managers as well. NFPA 220 details different types of building materials and their combustibility, or likelihood to catch fire. This code helps guide what fire protection measures may be necessary or may vary based on building type and materials used.
10. NFPA 1600 - Standard on Continuity, Emergency and Crisis Management
This one is a standard rather than a code, but that does not make it less important to know. NFPA 1600 is dedicated to helping people prepare for any type of disaster, from weather or fire disasters to human or technological events. This code is especially important for anyone working in emergency management or business continuity. Essentially, this code provides a framework so that businesses can create a plan for what to do if disaster strikes, helping to make sure that chaos doesn't ensue.
The NFPA codes and standards can be overwhelming, but they don't have to be. A little bit of basic knowledge can help you understand what's most important when it comes to choosing a fire protection and life safety plan for your business.
Of course, you want to make sure the professionals you choose for that plan are also compliant with all of the codes and standards, so that your business will be, too. At CertaSite, we go beyond compliance to give you peace of mind that your people and property are as safe as they can be, should fire or another disaster strike. Ready to experience the most dependable and simplified life safety solution? Contact us!