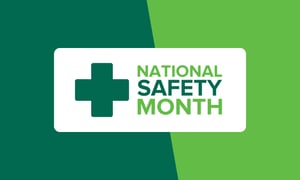 As we enter the end of National Safety Month, it's important to evaluate and consider everything in your business that affects the safety or your employees, customers, and building itself, including fire and life safety.
When running a business, fire and life safety may be the last thing on your mind. We get it – it's easy to get caught up in the day-to-day and let quick fixes to power needs or storage issues become the norm. But the last thing you want to do is let fire safety slide to the bottom of your list and cause an actual problem.
Fire code violations are common because many are easier to make than you might think. In this list, we're talking about the top five most common fire code deficiencies and what you can do to fix them – with most repairs possible after a few simple changes.
1. Misuse of extension cords and multi-plug adapters.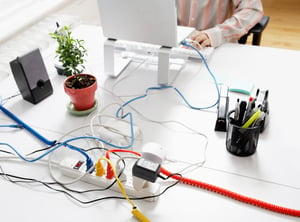 If you work in an office, you likely have a lot of electrical equipment to use. Your office space might contain items like a computer, several monitors, a phone and more – and all of those require plugs to power on. As a result, many office workers turn to extension cords or multi-plug adapters to create enough outlets.
In most situations, these items are actually only meant to be used temporarily or are prohibited entirely. Under all circumstances, you should never attach extension cords to other extension cords, permanent fixtures or run them through holes in the wall. All of these actions create very real fire hazards. Instead, companies should invest in creating more outlets entirely, or at least use fused outlet strips that plug directly into wall outlets.
Refer to NFPA 1 Fire Code Section 11.1 and NFPA 70 National Electric Code if you are concerned about current cords and adapters usage within the office.
2. Fire extinguisher issues.
As a business owner or building manager, you likely know you need to have fire extinguishers – but they also of course need to be regularly tested for functionality and properly spaced.
Most fire codes require that extinguishers be placed at least every 75 feet. Along with this, they must be inspected on a regular basis to ensure functionality. Generally, fire extinguishers need to be inspected upon installation and then once a month after that. It's good to have a certified life safety technician perform the inspection. Some items that will be checked during an inspection include:
Make sure it's located in the correct spot, and that it's visible or there's clear signage about where to access it.

Make sure it's accessible and nothing is blocking it.

Check the pressure gauge to make sure it's in the right range.

Check that the extinguisher is full, simply by lifting it or weighing it.

If it's a non-rechargeable extinguisher, there may be a push-to-test button you can test.
Once an extinguisher has been checked, the date of the inspection needs to be recorded on the inspection tag and on the inspection report, so there is proof of the inspection.
Along with monthly general inspections, fire extinguishers should undergo an annual maintenance check. Maintenance should be performed by a certified life safety technician, such as those at CertaSite.
To make sure you are following all fire extinguisher codes, refer to NFPA 1 Fire Code Section 13.6 and NFPA 10 Standard for Portable Fire Extinguishers.
3. Missing or burnt-out exit lighting and signage.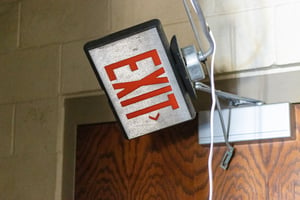 It's common to see exit signs that are partially burnt out or blocked by signage when out and about, but this is actually a fire code violation. All commercial buildings or workplaces are required (NFPA 101 Life Safety Code) to have illuminated, unblocked exit signs at all times when anyone is in the building. In most cases, backup batteries are also required so that the signage continues to be illuminated even in case of a power outage. This is to ensure that people in the building can find their way out, even in the dark.
Exit signs and emergency lighting should be checked monthly, and any burnt out or flickering bulbs should be promptly replaced. As far as backup batteries go, a good rule of thumb is to change the batteries in lighting at the same time you change the batteries in smoke detectors: on an annual basis.
4. Blocked fire protection devices, exits or fire doors.
When in a rush at work, it can be tempting to want to store things wherever you can, as quickly as possible. This can lead to stacks of items in shared workrooms, or boxes of items in front of doors. As a result of such actions, you can actually end up blocking critical fire protection devices, exits or fire doors – all of which are fire code violations.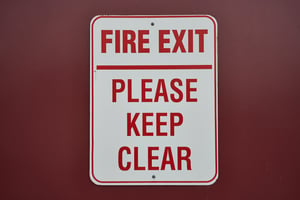 Make sure that items like fire panels, sprinkler heads, smoke detectors, and other components of your fire and life safety system are all unblocked and easily accessible at all times. Also make sure that all exit doors are clear and ready to use in case of emergency.
Don't forget to check outdoor features, too, such as exterior fire department connections and valves and fire hydrants. Firefighters need to be able to instantly connect to these items in case of an emergency, and you don't want a tree or business equipment in their way when you need them.
To avoid any code violations, refer to NFPA 101 Life Safety Code Sections 7.5 and 7.6 or work with your preferred life safety partner, who will make sure you're compliant.
5. Misuse of storage spaces.
Every business could use more storage, but it's critical to make sure you're storing things in appropriate locations. For example, nothing other than fire and safety equipment should be stored in fire pump and riser rooms. If there's an emergency, it's crucial these items are available quickly, and you don't want mops, brooms, or other random items in the way.
Along with this, storage spaces need to be at least 30 inches away from electrical panels, and you need to take care especially with flammable materials or combustible items. Such materials should never be stored in boiler, electrical, laundry or other high-energy rooms, and they also can't be stacked too high. When in doubt, have an expert assess these materials.
Refer to NFPA 230 Standard for the Fire Protection of Storage and NFPA 231 Standard for General Storage to make sure you're storing items correctly.
When it comes to fire and life safety, bringing in experts can bring you peace of mind. At CertaSite, we will help you assess any fire and life safety issues your business might have and will work to quickly correct them, giving you the best protection possible.