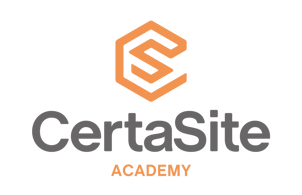 When Nick began considering a job change, he wasn't quite sure if he wanted to stay in the same industry or venture into a new one. One thing was certain, he wanted a career, not just a job, and he wanted a company that had potential for professional career growth. While hesitant, he chose a new career and industry and jumped into the fire and life safety industry as a life safety technician. He knew some of his hands-on skills and eagerness to learn would be a great asset to ensure he exceeded his potential.
At CertaSite, Nick found a company that offers a fantastic and highly recommended learning and development program, and he could tell it was designed for someone like him, someone with no industry experience. Nick has dreamed of opportunities like this and is so excited to get things rolling in the fire and life safety industry. As Nick pulls up to the office, jumps out of his car, straightens his hat, and smiles, he's ready for day one of the CertaSite Academy.
CertaSite Academy Journey
Here at CertaSite, we are invested in the personal and professional growth of our life safety technicians. We're on a mission to be the most dependable and simplified life safety solution on the planet. Our work makes a real difference in the world, and that starts from within, from our relentless pursuit to be great, not just good enough. We believed there was a better way for our employees to never stop learning and developing, never stop growing professionally. From our CEO to our life safety technicians, our desire to innovate and our commitment to life-long learning led us to create our own learning and development program called the CertaSite Academy.
The CertaSite Academy is designed for someone with little to no industry experience, like Nick, all the way to someone with a high-level of experience. Our life safety technicians learn the construction of, repair of, and maintenance of all types of fire and life safety systems through training courses that have been thoughtfully curated by our leaders and employees who have decades of experience in the industry.
All of our classes have been designed to accommodate a wide range of new hires and their talents. Learning takes all shapes and forms. With the CertaSite Academy, we strike a balance between coaching, curriculum, hands-on learning, and external resources to learn and develop new skills. Someone can literally come in off the street with zero experience and a desire to do hands-on work, confidence in themselves, and willingness to learn new things and work their way through the levels of the academy.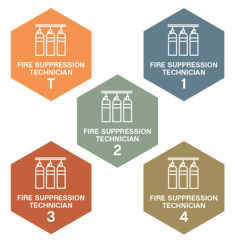 There are five levels in the CertaSite Academy and each level requires more in-depth training and technical knowledge. All levels and training coincide with industry certifications, such as NICET, in accordance with industry training, and provide other personal advancement - outside of certifications - to further develop interpersonal communications and other soft skills.
Technicians will start out learning about their specified product and gain a foundation of what the product is, whether it's alarm, suppression, or sprinkler. They will garner knowledge and core information in order to start off successful in their desired role.
Throughout the technician's CertaSite Academy journey, courses will consist of in-person training, online training, study sessions, hands-on experience, and skills tests with a mentor. The skills test is held at the end of each level to ensure the trainee is ready and prepared to move up to the next level. It will be performed with their manager or mentor. Each trainee will always have a touch point with either their manager, mentor, or supervisor and develop relationships with them throughout the entire program. Each mentor, manager, and supervisor is accountable to their life safety technician and is there to guide them, coach them, and encourage them throughout the process.
Each level in the CertaSite Academy can take anywhere from 6 months to a couple years to complete. The higher the level, the more reward, the more time it takes to complete. What's great about the CertaSite Academy levels is if someone comes in with zero experience, but have a desire to learn, they can get up to speed in less than a year and decide if they want to further develop their skills. The more the life safety technicians learn, the higher the level they can achieve; thus, resulting in a higher billable hourly rate.
What are the Benefits?
There are many benefits to the CertaSite Academy and Nick is currently learning how many there are! We'll start with what everyone is thinking about, the money. With completion of each level, our life safety technicians can see regular pay increases as their development path progresses. Once Nick completes levels 1, 2, and so on, his hourly pay and billable pay increase. That's a win-win!
As a life safety technician's development path progresses, so does the opportunity to increase a personal network because the life safety technician is attending more in-person classes and training sessions. Building a professional, and personal, network is incredibly important in any industry. It's not only what you know, it's also who you know.
Another benefit is the internal relationships with local leadership on a regular cadence. This is particularly important because these leaders are there for any questions and help. You can learn so much from someone when you're learning in person.
Other exciting company-wide benefits that Nick and his teammates enjoy include:
Two medical plans (partially company paid)

Dental and vision options

401K with company match

8 paid holidays

Generous PTO

Life and long-term disability (company paid)

Education reimbursement
While most all companies offer benefits, CertaSite offers those and the CertaSite Academy, which offers its own personal and professional growth benefits. All of which can help prepare you and our life safety technicians with the foundation to be great, while providing the best service to what matters most…our customers.
Why We Have It
It's simple. So we can achieve our mission and vision of providing a meaningful impact to as many lives as possible while working to be the most dependable and simplified life safety provider on the planet for our customers. The CertaSite Academy is a defined way to provide in-house long-term development plans for our life safety technicians. We wanted a different way to invest in our employees and show them we truly care about their career path and growth. The CertaSite Academy does just that. There is more to fire and life safety than NICET certifications, and the CertaSite Academy is a perfect example that demonstrates the full picture and path to professional growth. Just ask Nick.
At CertaSite, we want well-rounded employees who are passionate about what they do, provide the best service to our customers, and are the most knowledgeable in their field. Skills pertaining to a role aren't the only thing that matter. Personal and professional growth matter, not just professional. We're developing life skills, technology skills, and people skills. We want to disrupt the fire and life safety industry and the CertaSite Academy is laying the foundation for our folks to do just that.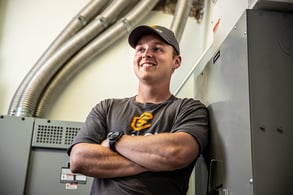 Nick is now on the third level of the CertaSite Academy and has enjoyed many of its benefits. He's not only become a great advocate for the Academy, but he's also on his way to being a mentor for new employees starting the courses. Nick exemplifies all that the CertaSite Academy is. He came into his position with no experience and has grown so much personally and professionally in the several months he's been on his training path.
Nick is doing big things and has set his dreams high. He exudes everything there is about CertaSite: he's passionate about the industry, the work he's doing is impactful (to say the least), if there's a better way to do something, Nick will figure it out, and customer's say he so dependable and compassionate when there is a major problem. There's nothing in his way now, and there's nothing in yours. The CertaSite Academy continues to propel people to new heights. Just look at Nick.