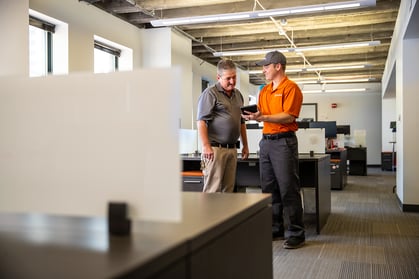 No matter what type of business you are, there are rules, regulations, and fire codes that must be followed to ensure the safety of lives and other valuable assets. Property management is no exception. In fact, when it comes to rules and codes for those in the property management industry, it is imperative to know the requirements and best practices so you can ensure the safety of the residents who live and work in the buildings you manage.
Let's dive deeper into some best practices for property management around preventing fire code violations, staying up to date on inspections, tracking inspection and service reports, and managing life safety across multiple properties.
How Can I Prevent Common Fire Code Violations?
In general, many common fire code violations can be prevented simply by walking through your properties with a critical eye and knowing what to look for. Here are a few items to check next time you're doing a walk-through.
Proper Fire Extinguishers
It's crucial to have the proper type and number of fire extinguishers, but this is a common fire code violation. There are a lot of factors that determine the number, type, size and location requirements for fire extinguishers on your property. As a basic rule, there should be no more than 75 feet between fire extinguishers, and they should be readily accessible.
If you're unsure what the proper type and number of fire extinguishers is for your business, contact CertaSite and we'll be happy to provide a full explanation on the requirements for your specific needs. You can also review National Fire Protection Association (NFPA) 10 for more information.
Storage of Combustibles
Storing flammable liquids or hazardous materials too close to ceilings or heat sources is a violation of fire codes for property managers. Ideally, you would store these materials in a place with the following characteristics:
Cool temperature and dry (low humidity)
No ignition sources
Well-ventilated
Easily accessible by firefighters
Located away from exits, exit paths, elevators and staircases
Proximal to firefighting equipment and materials to clean up spills
Clear signage stating the presence of combustible and flammable liquids
Features a "No Smoking" sign
Next time you're walking through your building, check that your storage of combustibles follows these guidelines and local fire codes. For more information on storing combustibles, review NFPA 30.
Clear Walkways and Building Access
Failure to provide a clear path of travel for people on foot as well as for emergency responders is a serious safety hazard and can result in fire code violations for the building. You should consider the following when assessing the interior and exterior ease of mobility on your properties:
Install permanent, safe wiring solutions versus having dangerous extension cords and wiring in the path of travel.
Housekeeping:

To assure it's not overflowing, schedule regular trash removal from properties.
So as not to impede travel on foot or in vehicles, remove all excess clutter from properties.
As you're walking around your properties, put an objective eye on the paths of travel, both inside and out. If there's something that could potentially impede travel, clean it up or move it to a more safe and suitable location. If you have questions regarding what may be deemed acceptable and what wouldn't, you can review NFPA 101B for more information.
Exit Issues
For property managers, exit issues can be common stumbling blocks, literally speaking. Common fire code violations in the property management industry involve the simplest of things – fire doors, exit doors and exit and emergency lighting. To avoid being cited in these areas, be sure that you're following these guidelines:
Fire doors are not held or blocked open but are fully closed as they should be.
Exit doors and aisles are not blocked or locked.
Exit and emergency lighting and signs are property illuminated and in good working order.
Not having properly operating doors and well-illuminated paths of travel can present danger for those who may need to quickly exit a building. Should you have any questions regarding these guidelines, you can review NFPA 101B for more information.
Address Signage
Address signage at your buildings is incredibly important because it is what helps emergency responders easily find your property if there is a fire or other emergency. Best practices for signage are as follows:
Have your street address numbers prominently displayed at the proper minimum size as required by your local fire codes.
Be sure to periodically maintain your signage and any landscaping around it to keep your address visible from the road.
It's a good idea to do an occasional drive by as if you're a first responder. If you can't clearly see your property's address signage, then chances are an emergency responder who is unfamiliar with where to look won't either.
As a property manager, following proper signage regulations will help you avoid citations and fines and will also give you peace of mind that emergency responders will be able to quickly and easily protect your people and property. For more information, reference NFPA 1.
Defective Electrical Fixtures
Another often overlooked area that can lead to fire code violations relates to electrical fixtures. Here are some easily remedied roadblocks between your properties and issue-free inspection reports:
Broken or missing electrical fixtures
Broken or missing outlet covers
Broken or missing switch plate covers
The above can be a fire hazards as well as code violations for your property and are easily and inexpensively avoided by conducting regular walk-throughs of your properties and replacing faulty fixtures. If you need more information, check out NFPA 70B.
Access to Electrical Circuit Breaker Panels
According to NFPA 70B, fire code typically requires a minimum clearance of 30" on the front and sides of electric circuit breaker panels in residential buildings. This means that nothing can be stored or blocking the panels, as it can create a fire hazard, resulting in a fire code violation.
Though you may initially be aware of this requirement when you first open a property, over time, things shift around, shelves are put up or stacks of boxes or totes may be placed near electrical panels. Be sure you check for issues like these during your ongoing property walk-throughs to make sure you stay within compliance.
Proper System Testing and Maintenance
In order to remain within compliance, the fire alarm, fire extinguishers, sprinkler systems and other fire suppression equipment must be serviced and tested per NFPA standards each year by a qualified fire and life safety company like CertaSite. If your fire and life safety partner is following best practices, they will track testing and maintenance schedules for you and proactively communicate when your systems are due for inspection. Read more on testing and inspection schedules in our next section, "How Often Do I Need to Have My Systems Inspected?".
How Often Do I Need to Have My Systems Inspected?
It would be great if all your life safety systems had the same inspection and service schedules. Unfortunately, this is not the case, but here are some basic guidelines for the most common life safety systems property managers use:
Fire alarms need annual inspections, testing, and maintenance of control panels, initiating devices, communication equipment, and remote annunciators. If you have smoke detection devices as part of your fire alarm system, these devices need a 2-year sensitivity and functionality test and then scheduled going forward.
Fire extinguishers require monthly and annual inspections and maintenance. There are additional tests and inspections required based on your type of fire extinguisher. Carbon dioxide and water extinguishers require a 5-year hydrostatic test. On the other hand, cartridge-operated and stored-pressure extinguishers only require a 12-year hydrostatic test. Additionally, stored-pressure extinguishers require a 6-year inspection, during which all their internal components are replaced.
Fire sprinklers require weekly inspections of their gauges. They also require quarterly, semi-annual, and annual inspection, testing, and maintenance, along with 5-year internal inspections and FDC checks.
Emergency and exit lights require monthly and annual inspection and maintenance.
For additional fire and life safety systems, you can find more information about inspection and service schedules on the NFPA's website or call CertaSite and we can assess your requirements.
How Do I Track Inspection and Service Reports?
As outlined above, every system has different service and inspection schedules, which creates a lot of paperwork for you. Fire and life safety partners following industry best practices will provide an online customer portal where you can see your entire history of inspection and service reports any time. This eliminates the need to keep track of paper reports and allows you to easily reference and share your service and inspection reports with local authorities or your insurance provider.
Keeping track of inspection and service reports is critical because if you can't prove an inspection was done, then you are out of compliance and can face code violation citations. Depending on your local government and insurance requirements, you may have to send a copy of every inspection and service report you receive, or you may just have to keep these reports on hand and provide them only when your local authority or insurance provider asks for them.
How Do I Manage Life Safety Across Multiple Properties?
As a property manager, you often have an additional challenge that other businesses do not: you manage multiple properties, sometimes in different municipalities.
If you are managing life safety across multiple properties and location, you need to know the local fire codes and inspection requirements for each property and location. You will need to track all your inspection and service reports across all your locations. Some properties may be in municipalities that require you to submit these reports every time you receive them. Some may not require this. If you have multiple fire and life safety vendors, then you'll have to track all of them across all your properties. With so many moving pieces, managing life safety across multiple properties can quickly become overwhelming and a huge headache.
But there is a solution...
If your fire and life safety partner is following best practices, they will have a dedicated account and project manager that tracks all these pieces for you. This single point of contact will stay on top of local fire code regulations and requirements for each of your locations and will keep you on track for all your systems inspection and service schedules. They will also work with you to plan and budget for upcoming service and maintenance expenses. They will offer a suite of fire and life safety systems so you don't have to juggle multiple vendors and instead can work with one partner. They will simplify your life safety program so that you can spend more time focusing on your core business with the confidence that your people and property are protected.
It's crucial for property managers to follow best practices for fire and life safety. But it doesn't have to be complicated or difficult. Let CertaSite comprehensively manage your life safety program so you don't have to. Simply fill out the form below or call us at734-977-0437 to start the conversation.