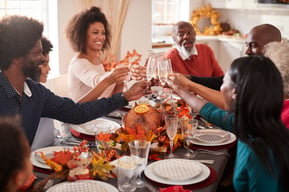 In a few short days, many of us will be sitting down with loved ones and friends to celebrate Thanksgiving. This year may mean more to many than previous years given the cancellation of annual Thanksgiving traditions last year due to the pandemic.
With all the excitement around holiday time, it's easy to put aside safety measures. Thanksgiving and holiday safety, in general, is most prominent from now through the new year. Families are gathering, road travel is increased, kitchens are on overtime, and decorations start to fill the home.
From 2015 – 2019, cooking caused 49 percent of all reported residential fires and more than 42% of all home fire injuries. That's astonishing if you think about it. Make this Thanksgiving one to remember and follow these safety tips to ensure you turkey day goes off without a hitch!
Cooking Fire Safety
Fires in the home caused by cooking equipment happens most on Thanksgiving. The Consumer Product Safety Commission estimates that an average of 1,400 cooking fires occur each Thanksgiving Day. This is more than three times the average number each day throughout the year. With loved ones gathering in different areas of the home, it's simple to get distracted from cooking. From stove tops to fryers, it's important to monitor all cooking until done. Follow these safety tips so your loved ones have a meal they won't forget.
Never leave the kitchen or the food you're cooking unattended and always check frequently. Even if for a minute. That minute could be the difference in a kitchen fire.

Children need to be kept away from cooking equipment, such as stovetops or hot pans. These items will be hot and may have boiling water so kids should stay three feet away.

Keep knives, carving utensils, and other sharp items out of the reach of children.

Be sure electric cords from an electric knife, crockpot, or mixer are not dangling off the counter or near the stovetop.
Turkey Fryers
A crispy, deep-fried turkey. What everyone wants on Thanksgiving. But you may want to think again on how you cook that bird. There are many dangers that go along with frying a turkey. The Consumer Product Safety Commission reports that since 2004, there have been 107 fire or burn incidents and 47 injuries as a result of frying a turkey. All resulting in more than $5.2 million in property damage losses. These are only the ones that have been reported.
If you plan on frying a turkey this year, please remember to follow these guidelines.
Use turkey fryers outside and away from any structures.

Never use a turkey fryer in a garage or on a porch.

Completely thaw and dry turkey before cooking.

Do not overfill the fryer with oil.

If oil begins to smoke, immediately turn gas supply OFF.

Never leave the fryer unattended.
General Holiday Safety
Thanksgiving weekend is a popular time to start decorating for the December holidays. People's family traditions consist of buying that perfect spruce the Friday after Thanksgiving. Candles and fireplaces are in wide use during this time, and combined with an increase in flammable, seasonal decorations, this means the risk for fire is far greater. Whether you'll be decking the halls or lighting holiday candles, it's important to follow these safety tips.
Keep matches and utility lighters out of the reach of children.

Never leave children alone in room with a lit candle and keep candles in places they can't easily be knocked over.

Make sure your smoke alarms are working. Test them by pushing the test button.

Use flameless candles near flammable objects.

Don't burn trees, wreaths, or wrapping paper in the fireplace.

Always use a screen on the fireplace when a fire is burning.

Never leave candles or fireplaces burning unattended or when you are asleep.

Check and clean the chimney and fireplace area at least once a year.
Holidays are a time of gathering, sharing laughter, and enjoying one another's company. By following the safety tips in this blog, pumpkin pie will be served, football will be enjoyed, and the safety of those gathered in your house will be protected.
Happy Thanksgiving, everyone.