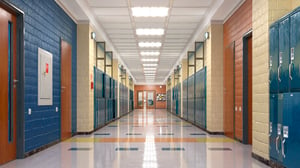 Every year, fire departments across the United States respond to an average of more than 3,200 fires in schools. That's more than eight fires each day across the country.
While students are at school for educational purposes, they also need to be aware of what to do if an emergency should happen, such as a fire. This is why action plans and proper awareness and training are crucial – for students as much as for teachers and other staff members.
As Fire Prevention Month winds down, we're talking about how every school can prepare for responding to a fire, as well as what measures can help prevent school fires in the first place.
Security Around the School
Believe it or not, fires that were intentionally set are the leading cause of school fires, causing almost two out of every five fires that occur. For this reason, security around all school buildings is key.
Vandalism, unfortunately, is common around schools. School buildings should all be equipped with security cameras around the exterior, as well as motion-sensor lights, if possible, to help ward off any intruders. All entrances and windows should have proper locks and alarms, and neighbors to the school should be encouraged to notify authorities of any unusual activity that they see.
Proper Equipment Within the School
While most fires are set intentionally, fires also most often originated in a bathroom or locker room – perhaps because those areas don't typically have cameras. Either way, it's also extremely important that schools have proper fire prevention and extinguishing equipment inside all buildings.
Every school building should have plenty of emergency signage and emergency lighting, indicating where exits and fire extinguishers are located, among other important information. Fire code dictates how many fire safety items are needed and at what spacing, such as for fire extinguishers, sprinklers, and other measures. Additionally, different areas of the building might require different types of systems, depending upon chemicals or special equipment in different classrooms.
Typically, schools work with a professional and preferred fire and life safety company to ensure that they are following all rules and regulations when it comes to fire preparedness. Working with a preferred fire protection company helps ensure that a school's people and property are as safe as possible if an emergency does occur. They make sure you are well equipped in case of fire or other emergency, and we'll also make sure that you stay up to date on all required maintenance and replacements.
Safety Education and Preparedness
The final step to school fire safety awareness is educating students and staff on what to do in case of a fire. While having the right tools in place – such as fire sprinklers and extinguishers – is necessary and very helpful, the most important thing in a fire is getting everyone out quickly and safely.
Schools should practice fire drills, ideally once a month, but at least quarterly. Generally, a drill must be done within the first few weeks of each semester. Throughout the year, these drills should be a mix of planned and unplanned, so that students and staff learn what to do even if it happens unexpectedly. Your state rules and regulations will dictate the frequency of these drills. Additionally, each room in the school building should have at least two exits, and students and staff should know where all fire pull alarms and fire extinguishers are located.
Of course, other safety drills should also be practiced routinely throughout the year – such as severe weather drills, lockdowns, and other emergency drills as required by the area where the school is located. With plenty of practice, everyone will be prepared to respond quickly and correctly in case of a true emergency.
When it comes to fire and life safety, being prepared is everything. Having the proper security, equipment, training, and practice can help keep everyone that works or attends a school building safe if a fire does break out. At CertaSite, safety is our business, and we will work with your school on creating a custom fire and life safety plan that takes your unique needs into consideration, ensuring your students and staff are as safe as possible.