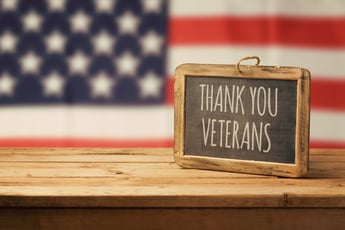 We at CertaSite value the sacrifice and service for all those that put it on the line to serve and protect the many liberties we celebrate daily. Especially on Veterans Day, we take time to remember the individuals who have protected our rights and freedoms, sacrificing their time, and in some cases their lives, serving the United States.
A little history lesson about Veterans Day, the holiday is celebrated every year on November 11th to commemorate the end of World War I on November 11, 1919. Veterans Day was first recognized in 1926 when Congress passed a resolution for an annual observance of the day, and it later became a national holiday in 1938.
Our veterans made a pledge to give everything in service to our country to protect every American's life, liberty, and pursuit of happiness. You can show gratitude for this sacrifice today and year-round in simple ways.
If you know or see a veteran, shake their hand, and sincerely thank them.
Give a veteran your time and attention by asking them to share their stories with you, not just about their service but also about their life.
Volunteer at or donate to the U.S. Department of Veterans Affairs.
Veterans are all around us. Many spend years in the military but then go on to other careers or pursuits. On this day, we wanted to take a moment to honor our own veterans and thank them for all they've done not only for our company, but for the United States of America.
Jeff Wyatt, CEO
Jeff is a veteran of the United States Navy. He served our country as an interior communications electrician. Jeff served on the USS John Marshall SSN 611 submarine from 1986 - 1989 and received the sea service award, good conduct medal, and received a letter of commendation during one of his deployments to the Mediterranean Sea. Jeff was promoted to Petty Officer 2nd Class prior to his honorable discharge.
Bill Holmes, Director of Operations
Bill's passion for keeping people safe was first cultivated in the military. He served 15 years active duty in the United States Navy, six years in the Kentucky Army National Guard, and three years in the Army Reserve. Most of his military service was focused on fire safety and life protection.
Bill joined the military after high school and grew up while travelling to see the world. In the military, he gained an appreciation for the people who like to be part of a team. "In the end, joining the military was the best decision of my life," Bill commented. "Camaraderie, friendships, life changing experiences that were pleasant and tragic, but through it all we were a team and proud to serve our country."
Thank You to All Our CertaSite Veterans
Brandon Keeler - Army, 4 years
Brian Reed - Marines, 4 years
Candice Cook - Air Force, 10 years
Charles Plume - Army, 6 years
Chris Ronfeldt - National Guard, 20 years
Corey Slick - Navy, 5 years
David Schultz - Navy, 6 months
David Kilgore - Army, 6 years
Doug Keller - Navy, 6 years
Eric Makarewicz - Army, 4 years
Howard Spence - Navy, 6 years
Joshua Bettell - Army, 9 years
Josh Munday - Army, 7 years
Kiel Dotson - Navy, 4 years
Kyle Birely - Army, 5 years
Kyle Kridler - Army, 4 years
Logan Wright - Army, 10 years
Marcus Cleary - Army, 8 years
Matt Rock - Army, 10 years, currently serving in the National Guard
Nick Snyder - Air Force, 3.5 years
Paul Schmidt - Army and National Guard, 8 years
Rich Kendle - Navy, 4 years
Ryan Lenk - National Guard, 12 years
Timothy Beck - Air Force, 9.5 years
Tom Diesel - Marines, 6 years
Thank you to all the veterans across the country for your service and sacrifice.