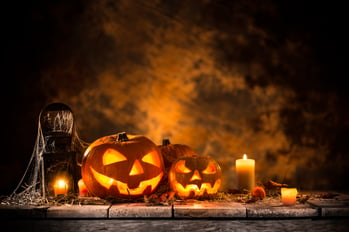 Halloween is full of fun. Dressing up in costumes, enjoying a delicious caramel apple, or decorating to celebrate the spooktacular night, fire safety may not be top-of-mind for you. People often think of fire safety with other holidays such as frying a turkey at Thanksgiving or warm Christmas lights on a real Christmas tree, but Halloween also has its fair share of potential hazards.
The National Fire Protection Association took a closer look at the effects Halloween decorations, costumes, candles, etc. had on fires from 2014 – 2018. According to the NFPA, an average of 770 home structure fires began with decorations per year. More than 44% of those fires happened because the decorations were too close to a heat source, such as a candle or hot equipment. More than 36% of the 44% were started by candles. Finally, more than 22% of the decoration fires started in the kitchen with 16% began in the living room. Those are some scary statistics.
But let's focus on preventing these situations. To ensure everyone enjoys the spooks, tricks, and treats, the NFPA put together some fantastic fire safety tips to try to avoid any frightful fire emergencies.
By planning ahead, your Halloween can be a fire-safe one. There are many simple precautions to take that don't take much effort.
Costumes
Avoid long costumes that drag on the ground. They can easily trail into a lighted pumpkin and catch fire. It's important to also note that if you or your child is wearing a mask, make sure they can see clearly out of it. If their vision is blocked or distorted in any way, they could run into a potential fire hazard.
Lighting
Most Halloween activities occur in the evenings. A lot of people from kids to adults have trouble seeing in the dark. To alleviate any fire safety issues – tripping on a lighted pumpkin, bumping into lit candles – use flashlights or glow sticks with your costume or around trick-or-treating.
Decorations
As with any holiday and season, decorations play a big role in celebrating. Halloween and fall decorations can be a variety of items from cornstalks and wreaths to pumpkins and fake spider webs. All of which are fire hazards. It's important to keep all decorations, especially ones that can dry up or easily ignite, away from open flames or heat sources such as decorating lights or smoke machines. Whether the decorations are indoor or out, they all need extra care and precaution to avoid a fire emergency.
Exits
It's easy to get carried away when decorating for Halloween. You want that haunted house you created to have all the ghostly spooks around every corner. And you can, just make sure all exits are clearly visible and no decorations are standing in the way. In the event of an emergency, people need visible and easy exit routes and if there are skeletons or haystacks in the way, it will make it more difficult.
Smoke Alarms
Whether it's a home or office, double check all smoke alarms to make sure they're in working order. With many decorations and disguises, a fire hazard could easily be missed, and a smoke detector will be the first thing to alert you in the event of a fire emergency. A haystack could be placed next to an outlet that sparks due to overwhelming voltage. It will start to smoke and given the decorations, someone may not notice it, but a smoke detector will catch that and alert immediately.
Additional Tips
Pumpkins are a staple to Halloween. Everyone likes to light them to create that scary affect. To create a safer environment, you may consider using glow sticks or a battery-operated candle to light the pumpkin and reduce fire hazard. If you choose to use a candle and flame to light the pumpkin, make sure the lighter is long and the lit pumpkin is away from anything that can burn and kept out of the way of pathways.
It's important also to discuss these safety tips with your children so they know what to look for and how to react in the event of an emergency.
Halloween should be a fun and exciting evening full of frights, candy, and little monsters enjoying all it has to offer. With these helpful safety tips, you can make sure your Halloween is purely a treat.