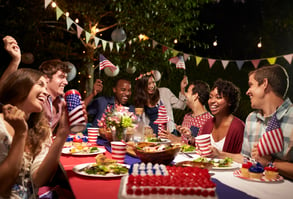 The Fourth of July is nearly here, and it's a great time to celebrate our country's independence with friends, family and loved ones. This time of year also often means fireworks – and all the fire hazards that come with them.
Of course, the safest way to enjoy fireworks is to leave the show to the professionals and watch from a safe distance of at least 500 feet away. But, if you do choose to celebrate the holiday at home, there are some simple safety measures to keep in mind to protect your property, family, and friends during the festivities.
Fireworks Safety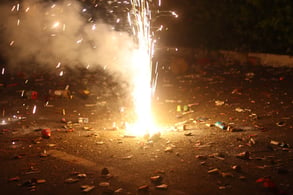 Certain kinds of fireworks may be legal, but that doesn't make them 100 percent safe. Accidents can happen with any sort of pyrotechnics.
The safest route is to go to a professional fireworks show rather than purchasing and lighting your own fireworks. In 2020, fireworks resulted in about 15,600 injuries seen in emergency rooms across the United States. Adults ages 25 to 44 accounted for about 35 percent of these injuries, and children younger than age 15 accounted for 18 percent of the injuries.
If you do choose to use legal fireworks, here are some precautionary measures to take:
Never allow young children to handle fireworks. Keep them far away from the fireworks, and make sure an adult ensures they stay away.

Never use fireworks while drinking or using drugs.

Anyone using or handling fireworks should always wear protective eyewear.

Never hold lighted fireworks.

Never light fireworks indoors.

Never point fireworks at another person or animal, even when unlit.

If a firework doesn't light, never try to relight it.

Keep water nearby in case a fire does break out, and to fully extinguish fireworks that don't go off.

Once you're done, soak both used and unused fireworks in water for a few hours before throwing away.
When in doubt – leave the fireworks show to the professionals. You can also find more tips on fireworks safety on the NFPA Fireworks page.
Sparkler Safety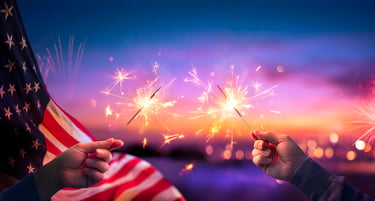 Sparklers are synonymous with Fourth of July celebrations. Kids especially can love sparklers – but it's extremely important to practice safety measures, especially if children are involved. Sparklers may seem harmless, but they can heat up to 1,800 degrees Fahrenheit and easily burn the user or a spectator.
If you choose to use sparklers, be sure to do the following:
Only use sparklers outside

Adults should supervise any children ages 12 and younger while using sparklers

Never light or hold more than one sparkler at a time

Always keep sparklers at least an arm's length away from your body, and stay at least six feet away from others

Don't run with or throw sparklers, and don't hand lit sparklers to someone else

Avoid loose-fitting clothes and wear closed-toe shoes when using sparklers

Dispose of any sparklers in a bucket of water after use to ensure they are out and cool the metal or bamboo sticks down
Sparklers can be fun, but you can also explore safer ways to celebrate – especially if young children are involved. Consider encouraging children to play with chalk or a sprinkler instead, or to wave streamers in the air.
To learn more about sparkler safety, you can visit this page.
Grill Safety
Grilling is another popular Fourth of July festivity. Grilling can be a delicious way to celebrate, but it can become another fire hazard without proper safety precautions.
If you're grilling this holiday – or whenever you grill – be sure to do the following:
Keep children and pets away from grills

Never grill indoors, whether it's the garage or another enclosed space

Keep the grill at least three feet away from decks, siding, branches, and any outdoor equipment that can catch fire quickly

Always supervise a barbecue grill when in use

Don't add lighter fluid when coals have already been ignited

Use the long-handled grilling tools

Avoid loose-fitting clothing or long sleeves, as they could catch fire, and wear closed-toe shoes
For more grilling tips and safety information, visit NFPA Grilling.
The Fourth of July can be full of safety hazards, but it doesn't have to be. With some basic precautions and awareness, it can be a fun weekend full of family, friends, food, and celebration. And, if all of this has you thinking about the fire and life safety protocols in your business, bring in the professionals. Reach out to us at CertaSite.com to get started.