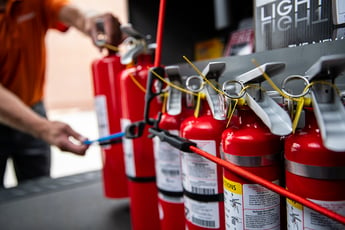 Companies understand the seriousness and consequences that a fire can have on their business, assets, and employees. The consequences that may arise can include anything from property damage and closed doors to loss of life. When you look at it this way, it's easy to understand how finding the right fire protection company is essential.

Choosing the right company may seem daunting. While there are many fire protection companies to choose from, it's important to know which questions to ask to ensure you've chosen the right one for your business needs.
To make things easier, we've pulled together a few of the top questions and topics to consider when searching for the company that fits your needs. Whether you're in the restaurant, education or health care industry, your needs can vary, and these questions should narrow down your options to make the best decision when it comes to a fire and life safety company.
1. What services does your company offer?
When considering a fire protection company, it's inherently important to find out all services offered. You want a full-service company to protect your most important assets, and you never know when something new may be needed. Fire protection companies with limited offerings leave a protection gap. Like any business, you want to fill in all gaps, leaving no room for error. Choosing the right fire protection company who offers a complete service package is the same. Because that error could cost you.
2. How do you keep records of inspections and service history?
Fire and life safety products and systems require regular inspection and maintenance. With this, goes record keeping. Paperwork upon paperwork. Properly maintaining your records is key to ensuring everything is done in an organized fashion, effectively and efficiently. This can create less hassle down the road when someone new starts or paperwork is lost or destroyed.
A preferred choice for a fire protection company's life safety system management and maintenance provides an electronic trail for everything. All information and details about your system inspection or maintenance are in one location. A customer portal goes beyond paperless and keeps track of inspections, testing maintenance, deficiency management, repair and service, reporting and compliance, and system monitoring.
Managing something as important as life safety should be easy and that's why a preferred fire protection company should provide you with access to your account online. It's life safety simplified.
3. How much experience does your company have? Are you and your technicians certified?
When you think about it, these two questions go hand-in-hand. The fire and life safety industry is full of potential business to choose from: those who have been in the industry for decades and those who are new. A key indicator that the company provides credible services is the experience their staff possess.
Regardless of how long a company has been in business, it's the employee's industry experience that matters. The in-house technicians could have more than 100 years of experience when the actual company has been in business less than 10 years. Experience is important and a proven indicator of the company's stability and success.
Certifications are another standard to look at when choosing the right company. A fire protection company's commitment to the evolving compliancy changes throughout the industry is demonstrated when they are certified. One certification to look for is the National Institute for Certification in Engineering Technologies (NICET). The technicians certified by NICET hold the knowledge of safety standards and modern technologies within their related service. Certified technicians are an important company asset that you need to consider when choosing your fire and life safety company. You want to ensure they have the required certifications necessary to maintain and complete the work.
4. How's your customer service?
Businesses tend to thrive with excellent customer service. Even in today's world of automation and technology, customer service is still one of the high-regards people look at when considering hiring a company. The large company with the big name may have the reputation, but their customer service could lack, so it's important to consider this question when searching for your fire and life safety company.
A preferred fire protection company provides access to their customer service and technicians 24/7 in the event of an emergency. For any question you may ask, the customer service representatives and technicians should have a 1-2 call resolution. Back to that automation mention above...you should always speak with a real person and always a phone number to call.
Fire and life safety isn't rocket science, but it is time consuming. A dedicated customer service team and technicians simplify the process.
5. What makes your company different?
Many companies focus on what they can provide you. A preferred fire protection company should focus on what makes them different. What differentiates them from other companies. They should offer competitive pricing, reduced cost and waste, better communication, and proactive reporting. The business relationship shouldn't be a transactional relationship. They should provide certified technicians dedicated to empowering you with the knowledge and help to protect your most critical assets.
Also, most companies focus on compliance, which is synonymous with minimum. A preferred fire protection company feels you deserve better than that. When other companies focus on mere compliance, they fail to protect what really matters to people: time. The clients should be surrounded with complete, proactive care. A preferred fire protection company is not like other fire and life safety companies. They give people the peace of mind, confidence, and more time to pursue their core businesses.
For a fire protection company, you want a partnership - someone you can trust and rely on to take care of your most critical assets. You don't want to settle. You want one who goes beyond compliancy. The preferred choice for a fire protection company wants to keep you protected and provide a goal to be your easy button that manages your fire and life safety system program, so you don't have to. The fire protection company you deserve strives to be the most dependable and simplified life safety solution on the planet.