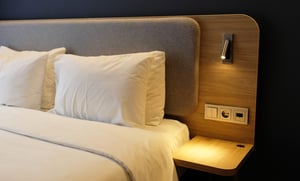 Fire and life safety is crucial in every industry – but it's perhaps even more important when it comes to the hospitality industry, including hotels and motels.
Unlike most businesses where customers are awake and active while visiting, at hotels, patrons are often asleep, making fire risks even greater, since people are especially vulnerable while asleep and unable to respond. It's the job of every hotel owner to make sure that their building and equipment is up to code, and that all hotel staff are trained in what to do during an emergency.
Unfortunately, deficiencies do occur in this industry. Here are the top five that you can come across in hotels and motels, specifically.
1. Flammable materials.
In every business, storage of flammable materials is incredibly important, and there are codes dictating those processes from the National Fire Protection Association (NFPA). However, materials like curtains, bedding and mattresses are also regulated by various codes regarding flammability.
However, in older hotels, bedding might not be replaced as frequently, or carpeting may be outdated. If they're older, they may not be up to the most recent code. This is especially a concern for bed and breakfasts or non-chain hotels, as they may not have defined internal protocols regarding replacing or checking of materials. When in doubt, you can always call and ask before staying at a hotel if you're a patron, or aim to replace mattresses every 3 to 5 years if you're a hotel manager or owner.
2. Faulty electrical connections.
Hotel rooms are full of plugs for visitors' computers, cell phone chargers and more – and all of that use day in and day out can result in poor connections. An example of this would be when you plug in a charger, only to have it fall out – that's a bad electrical connection, and it can be a huge fire risk due to the resistance between the plug and the electrical source.
Believe it or not, electrical outlets need to be replaced every 15 to 20 years, or sooner, depending on use. If a plug is loose, it shouldn't be used until it's been repaired, and hotel owners should make sure outlets are inspected on a regular basis.
3. Non-working smoke alarms.
If you're asleep, a smoke alarm can save your life. In hotels, alarms should be loud and also feature flashing lights in case a visitor has hearing challenges. Hotels and motels are required to have fire detectors in every room, and fire detectors should be tested at least once a month and replaced at least every ten years.
Hotel guests can see how old their fire alarm is by checking the date on it, but be careful not to remove it - you might unintentionally set off an alarm. Old alarms should be reported to hotel management and a new room should be requested if you find an outdated alarm. It's too important to ignore.
4. Old or faulty electrical appliances.
One of the conveniences of staying at a hotel is all of the appliances that are provided – items like microwaves, coffee makers, hair dryers, mini fridges and more. However, old appliances can be faulty and pose a fire risk.
To mitigate this, hotel owners and staff should check appliances routinely when they do other room inspections, paying special attention to the plugs and outlets. Hotel guests should also check the appliances in their room for any defects and unplug them or request a new room if there's any doubt to their safety.
5. Blocked exit ways.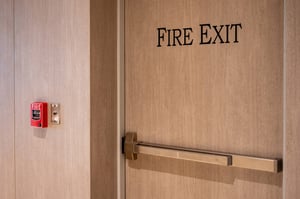 While a huge part of fire and life safety is focused on preventing fires in the first place, it's essential to also be prepared for if a fire DOES happen and people must evacuate.
A fifth common deficiency in hotels is blocked exit ways. During the hustle and bustle of a busy day, it can be easy to leave a trash can, stacks of boxes or cleaning cart in front of a fire exit, but doing this can be a fatal error if a fire breaks out. All hallways and exits should be kept clear of any obstacles, and all emergency lighting should remain unblocked as well. Doing so helps ensure all of the guests – and staff – have safe, accessible exits in an emergency.
There's so much involved in fire and life safety, from making sure you have the right plan and right equipment, to staying on top of maintenance and replacement schedules. At CertaSite, let us do the work for you, so that you can get back to what you do best: running your hotel.