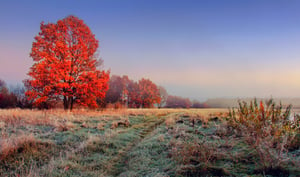 As the weather starts to turn cooler and the leaves begin to change colors, one thing is certain: autumn is here. Fall can be a wonderful season full of apple picking, trick-or-treating, warm drinks, chilly nights and tons of other fun. However, when it comes to fire safety, autumn comes with some unique risks and considerations we all should be aware of.
How can you stay safe from fires this fall? Check out the top five fire hazards below and learn what you can do to stay safe.
Campfires & Bonfires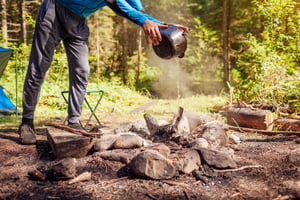 Few things are better than cozying up by a warm campfire and roasting marshmallows on a cold autumn night. Campfires and bonfires can be a fun fall experience, but it's crucial to be aware of how to enjoy them safely.
Some tips to keep in mind:
Always keep a bonfire at least 25 feet away from any structures (like a house or shed) or anything flammable (such as trees)

Choose a level location and make sure all leaves, sticks and other flammable objects are removed from the area before starting a fire

Don't use gasoline or other flammable liquids to start a fire; instead, use small sticks or branches, or newspaper

Never leave a fire unattended

Keep children and pets at least three feet away from the fire at all times, and NEVER leave them alone with the fire

Always keep a bucket of water or a shovel and sand on hand to put out a fire once you're done enjoying it

Be absolutely sure the fire is completely out before leaving the site - don't leave until all of the embers are gone
Dry Grass & Leaves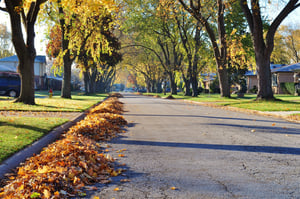 In the fall, things can get pretty dry – especially grass and leaves. One easy way to prevent fires during the fall is to pay attention to burn bans. Burn bans are issued when conditions make starting a fire especially likely, such as dry weather and wind combined. These bans are usually shared on local news or weather apps, and they mean no fires should be lit until the ban has expired.
Another common fire hazard in fall comes from burning leaves after raking. Before you consider burning leaves, be sure to check your local ordinances to see if it's even allowed – it's not permissible everywhere.
If it is allowed and you want to burn your raked leaves, make sure you do so safely. Never use flammable liquids to start the fire, and never leave the fire unattended. You need to be present and prepared to extinguish it at any moment if it gets out of hand.
If you want to be as safe as possible, choose an alternative to burning, such as composting or scheduling a pick-up for bags of leaves. And a final note: never add trash or other debris to burning leaves, tempting as it may be. Doing so can unintentionally cause toxic fumes or other health hazards.
Fall Decorations
With the change in seasons often comes a change in décor. In autumn, common decorations can include dried corn cobs, scarecrows, Halloween decorations, crepe paper and more. While these can be festive and fun, they also are fire hazards.
How can you decorate safely? Follow a few simple tips:
Keep decorations away from open flames and heat sources, including light bulbs

Consider using battery-operated or electric lights instead of candles in Jack-O-Lanterns

Check any decorative lights to see if they've been certified as safe

Don't let decorations block any exits you might need in case of an emergency

Be careful not to overload outlets as you plug in decorations
Fireplaces & Candles
Many people enjoy lighting scented candles or using a fireplace during autumn. Much like bonfires, these can be enjoyed safely with a few tips in mind.
Fireplace safety tips: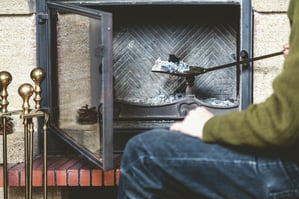 Clean out ash from previous fires before lighting a new one, and ensure the chimney is cleaned annually

Make sure the damper or flue is open before starting a fire, and crack a window if possible to help with air quality

Install safety screens to protect children, and keep all children and pets at least three feet away from the fireplace

Keep any flammable objects at least three feet away from the fireplace

Always keep a fire extinguisher nearby

Never leave a fireplace unattended
Candle safety tips:
Keep candles away from anything flammable

Never leave a lit candle unattended

Place burning candles at least three inches away from each other

Never move a burning candle – the wax can burn you

Don't burn a candle all the way to the end; instead, stop burning the candle when ½ inch remains

Use a candle snuffer to extinguish a candle, to avoid splattering hot wax
Home Heating Hazards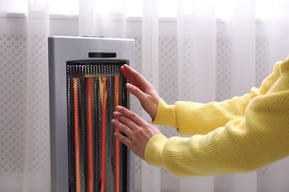 According to the National Fire Prevention Association (NFPA), heating equipment caused one in seven home fires that took place in 2014-2018. This includes items like space heaters, furnaces and more.
Some of the most important aspects to consider when it comes to home heating and fire safety are maintenance, cleaning issues, and proper spacing of heating elements. Home heating safety can be a bit overwhelming, but don't worry – we've got an entire blog dedicated to the issue. With a few simple precautions, you can help keep your family safe.
Fall is a favorite time of year for many – and it can be a fun time to enjoy things like candles, bonfires, special decorations and more. It's great to take advantage of this season, but it's very important to make sure you do so safely when it comes to fire hazards.
Not sure if other fire hazards may be lurking at your home or business? We're here to help. Reach out to us at CertaSitePro.com to schedule a consultation, or to read other blog posts about how you can be prepared for just about any fire emergency.