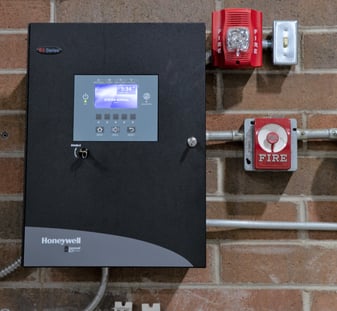 When it comes to fire protection and life safety systems, most people might think about smoke detectors and sprinkler systems. But, systems go far beyond that.
When considering fire protection and life safety, you want to make sure that you and your employees are alerted to a fire as early as possible so that everyone can get out safely. You want to know that fire extinguishers are easily accessible – and that they'll work if you need them. You want to be sure the right components are in place to put out a fire while protecting your equipment, and that the fire department will arrive automatically within minutes of an incident.
With the proper fire protection and life safety systems needed for your building, all these elements and more are automatic, giving you peace of mind and time to focus on your business, employees, and customers.
At CertaSite, we're dedicated to not only protecting our customers, but also educating them. That's why we've outlined the basics that go into some of the most common fire protection and life safety systems, as well as the specifics that help ensure you have the best protection possible for your specific fire protection needs.
What goes into a fire protection and life safety system?
Fire protection and life safety systems go far beyond just fire alarms and smoke detectors. In fact, there are many different systems that go in to keeping your people and property as safe and protected as possible.
Fire protection and life safety systems include:
Fire alarms

Fire extinguishers

Fire pumps

Fire sprinklers

Fire suppression

Backflow devices

Emergency & exit lighting

Kitchen fire suppression

First aid kits

Monitoring
All of these different components work together in the case of fire or another emergency. Alarms alert everyone to the emergency, and then suppression systems go into action to contain or put out the fire. Manual options like fire extinguishers provide additional protection for smaller fires, and first aid kits are there for any minor injuries that may occur. And while the other systems are at work fighting the fire and alerting people onsite of the emergency, your monitoring system is sending help by alerting and dispatching the fire department and other first responders.
Fire alarm systems
While fire suppression may be among the most obvious fire protection components, fire alarms are among the most important aspects. The fire alarm system is your first line of defense in a fire – it's the part that alerts you to a possible fire or carbon monoxide emergency.
Most fire alarm systems work by detecting smoke, heat or carbon monoxide. From there, the alarms are triggered, creating loud sounds and lights to alert the people in the building, and connecting with your fire suppression system to put any potential fire out if needed. Tied into your fire alarm system could also be voice evacuation tools to let everyone in the building or area know what's happening, or mass notification tools.
Fire alarm systems require annual inspection, testing and maintenance, as well as a 2-year smoke detection device sensitivity and functionality test. This information and more can be found in NFPA Code 72 – National Fire Alarm and Signaling Code. Fortunately, when you work with a company like CertaSite, the professionals will make sure to handle all of this for you. Depending on the business and/or environment, the experts will also help you determine which aspects of a fire alarm system are most crucial for your particular business.
Types of fire suppression systems
One of the most obvious aspects to fire protection and life safety is the actual fire suppression system – the technology that will spring into action and put out a fire if one starts. However, there are several different types of suppression systems available. Specifically, there are:
Clean Agent Suppression System. This type of system is preferred when delicate equipment – such as hospital equipment – must be protected in case of a fire.

Co2 Suppression System. This uses either high-pressure or low-pressure carbon dioxide, and it's great for protecting a large room or a specific piece of equipment.

Dry Chemical Suppression System. This is used for situations that require a very specific type of fire suppression response, such as gas stations.

Foam Suppression System. This type of system requires cleaning of an affected area after use.

Aerosol Suppression System. This system works best for protecting relatively small, enclosed spaces.

Water Suppression System. This is technically the most common kind of fire suppression system: water sprinklers. However, fire suppression is a term often used to refer to non-water-based systems.
When talking about fire protection, trained professionals will work with you to determine your unique needs and recommend the best system for your situation. In some cases, different types of suppression systems can even be used throughout the same building, to create the absolute best fire suppression option for each individual area.
Monitoring systems
In case of a fire, the most important thing is to get everyone out safely as quickly as possible. However, you also want to make sure help is already on the way even before you have the chance to dial 9-1-1.
Linking a monitoring system into your overall fire protection and life safety systems can take care of this step for you. If your alarm system is activated, the monitoring system will automatically let your local fire and EMS departments know there's an emergency, so that they can respond to the incident as quickly as possible.
At CertaSite, your monitoring system can also go beyond only activating during a fire emergency. It can also be used to alert local authorities to break-ins or system malfunctions if you have a security panel installed. You'll have 24/7 access to your monitored systems and can even sign up for text alerts if the system is activated, giving you peace of mind at all hours of the day, wherever you are.
The big picture
The best fire protection and life safety systems are ones you don't have to think about. CertaSite professionals make that easy, by working with you to create a custom solution perfect for your unique needs, then handling all maintenance, inspections, updates and more, so that you know you're covered.
With appropriate fire protection and life safety systems for your environment, you're not just protecting your property; you're protecting your people. A quality system will alert you to a fire the minute it's detected, effectively contain it, or put it out entirely, and alert emergency response professionals in your area so that they arrive within minutes to assist.
Our CertaSite systems can do all that and more. Get started with us today by visiting www.CertaSitePro.com.