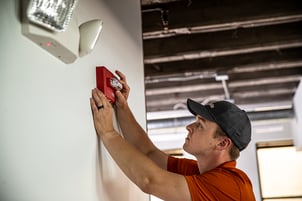 Over the years, CertaSite has been the first call when a fire safety system fails. Our crews drop everything in order to be on the scene any time day or night to repair the system. Because protecting our customers, as well as their businesses, employees, and customers, is why we do what we do.
As Fire Prevention Month comes to a close, we recently had two customer fire prevention stories, and the outcomes were nothing short of a success. To fire and life safety professionals, this is just another day on the job keeping people and assets safe, but in reality, it's far more than that.
An Overcooked Kitchen Averted
Let's venture just south of Kalamazoo, Michigan to a local restaurant. Their annual kitchen inspection was due, and our team was onsite to conduct it.
While on the scene, the detection line of the kitchen suppression system did not activate due to grease buildup. This is a common deficiency for kitchen systems and when not caught and corrected it can have deadly consequences. For those who aren't familiar, a kitchen suppression system has a link detection system interconnected with a detection line. In kitchen suppression systems, grease can build up causing a pinch in the line. The link triggers discharge of the suppression system, but if there's a clog, which was the case in this scenario, it can result in the suppression system not discharging to extinguish the flames. A clogged detection line can result in a major fire disaster like total loss of the commercial kitchen, or even the restaurant.
CertaSite's trained professionals worked diligently to recharge the system so they could remove the red tag deficiency from the restaurant's kitchen suppression system. The system was quickly back up, running, and compliant with industry codes and standards.
Restaurants depend on their kitchens. Without them, they can't operate. All of this occurred during business hours. Thankfully, there were only minimal disruptions, and the restaurant was able to get back to business as usual.
"Our team at CertaSite saved lives and property. The service industry is already hurting from events of the past year, we were able to protect this restaurant and keep them open for business," said David Steinmetz, account executive for CertaSite. "Nicholas Snyder, Brandon Strand, Salvatore Garofalo, Jason Thomas, and Jeffery Vance each went beyond compliance every step of the way. The best compliment is watching a customer eat lunch at a restaurant completely unaware that our team of rock stars averted disaster. Very proud of our team and their hard work every day!"
Every year fires cause 3,500 deaths and an estimated $21.9 billion in property damage and commercial kitchen fires can cost $23,000 in damages. Our professional team inspected the kitchen system, identified a critical deficiency, and repaired the system in a matter of hours. All while keeping the business open and the customers undisturbed by their work. That's why CertaSite is the most simplified and dependable life safety solution on the planet.
Reporting: Fire Marshal on Scene
It takes a lot to manage a large warehouse facility. Add in multiple fire safety systems and it can be even more challenging. In steps CertaSite.
We recently traveled for a fire alarm inspection to a new warehouse facility housing some very expensive showroom structures for the tenant of the building. The owner of the warehouse raised the warehouse roof by more than 15 feet for the tenant so more structures could be placed inside.
Due to the rise, the fire marshal required additional protection in these structures and wanted sprinklers installed, or another alternative solution, so CertaSite helped find the right solution for the tenant. As a premier fire and life safety company, we were tasked with replacing the existing Notifier Voice Evacuation Fire Panel with the first EST4 Fire Panel at this location. We also installed a wireless monitoring system to provide smoke detectors and horn/strobes inside of the structures.
The fire marshal wanted direct view of the strobes from the angles that the strobe was to protect. A couple devices had to be added and relocated to meet this requirement. This met extra work in relocating electrical wiring and alert devices, and the electrical inspector onsite was ready to cancel the rest of the inspection and return another day. This would have meant disruption in business for the customer and our CertaSite team was determined to prevent disruption. They got the electrical inspector to agree to completing the inspection after lunch if they were ready for her by then. With her agreement and a tight deadline, the team got to work. One of CertaSite's own, Mark Philo, came up with the game plan and put the wheels in motion. Mark didn't have an extra strobe device on him, so he reached out to one of his teammates who went to a nearby worksite to gather the necessary strobe device. At the same time, Mark began relocating one fire alarm speaker and strobe as he started running new wire for the new location of the strobe. Within a half hour, the strobe and speaker were relocated, and work began on the next.
As final connections were begin made, the fire marshal and electrical inspector returned from lunch. All relocations and device adjustments were made, and the inspection passed.
Because of Mark's hard work, quick thinking, and ingenuity, the warehouse opened on time and the tenant was able to move in.
These are just two examples of what having a preferred fire protection company looks like. Instances like both stories arise frequently. Due to the expertise of our professional fire safety technicians, disasters were averted, inspections were a success, and all customers were more than happy that their business functions were not disrupted. We love what we do and there is nothing more rewarding than helping a customer and keeping them safe and protected. That's why we do what we do.