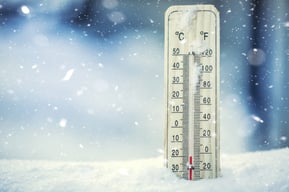 Winter is a wonderful time of year to crank up the heat or get a fire going in the fireplace and cozy up at home. But those things that help make a winter night cozy – crackling fires, rooms warm from space heaters, snow falling outside – can also come together to create fire hazards.
Half of all home heating fires occur in December, January and February, the National Fire Protection Association (NFPA). Because of this, it's especially important to be aware of fire risks in the winter – and the intersection of fire protection and potentially hazardous winter weather.
Below are some measures you can take to keep your people and property safe, all winter long.
Fire Prevention in Winter
When it comes to fire safety, the best thing you can do is prevent a fire from happening in the first place. Here are some steps you can take to protect your home from fire:
Keep generators outdoors. If you use a generator, use it outside only – never inside, and never in a garage, even if the door is cracked or open. Generators are a fire hazard indoors.

Turn portable heaters off when unattended. Always turn portable heaters off when you go to bed or leave the house. Heaters should never be left unattended.

Stay up to date on routine maintenance for your furnace and other heating elements. Make sure to have a professional inspect your furnace and HVAC system at least once a year. Always keep flammable items at least three feet away from any heating elements, and make sure these heating elements are also kept clean of dust and debris.
With these tips, you can take some basic steps to prevent fires from happening in your home during the colder months.
Prepare for Power Outages & Snow
Snow is beautiful – but it's also heavy. Snow and ice can impact power lines and cause power outages for hours or even days, depending on the storm's severity. Make sure you're prepared by following the tips below.
Stay weather aware. Keep an eye on the forecast day over day, and if you can, purchase a weather alert radio that will let you know if severe weather is coming, 24 hours a day. You can keep it in your bedroom so even at night, you'll know if a strong system is headed your way.

Keep the driveway and front walk clear. After a snow or ice storm, be sure to shovel and put down salt on your driveway and sidewalks.

That way, emergency responders can quickly get to your home if they need to – and you're less likely to slip and fall when leaving your home for an outing or during an emergency.

Make sure your house number is visible. Snow and ice can block your house number, making it hard or impossible to see from the street. After a storm, check to be sure it's still visible, and clear it off if it isn't, so that your home is easy to locate.

Be ready for power outages. Snow can mean power outages. Plan for it ahead of time by stocking up on essentials like shelf-stable food, gallons of water, and flashlights – not candles – for use in the dark. Don't forget extra batteries.

Have a backup plan if you lose heat. If your power goes out, you could lose heat, depending on your system. Plan for this too by having plenty of warm blankets, heat packs for your feet and hands, and a plan for where you'll go if you do lose heat for an extended period of time.

Check on neighbors. Look out for the people around you after a storm, especially older neighbors or people who may live alone. When in doubt, knock on a door to make sure they are okay.

Stay away from downed wires. If you see that electrical wires are down, do not approach them. Instead, call the non-emergency line to your local emergency services to report the down wires.
By following these steps, you can help ensure you're prepared if severe winter weather happens, rather than getting caught off guard.
Always Have a Plan - and Practice
The last thing you want in a fire and life emergency is family members who don't know what to do. This is why having a plan and practicing it is crucial. By talking about the plan frequently and having drills ideally once a month but at least a few times a year, you can make sure everyone knows exactly what to do. In your plan and practice, include the steps below.
Test smoke alarms once a month. Pick a day each month – like the first day of the month, or the first Saturday – and test all the smoke alarms in your home to make sure they'll work if you need them.

Know two exits out of every room in your house. A good rule of thumb when it comes to fire safety is having two exits out of every location, in case one becomes blocked. Walk around your house with your family and identify two exits from every room.

Practice the plan. The most important part of a fire safety plan is practice, practice, practice. Practice during the day and at night with the whole family, so everyone knows what to do if a fire happens at any time.
Fire and life safety can be daunting topics, but they don't have to be. At CertaSite, we're here to help. Read more of our blog posts to learn other ways you can keep your home and loved ones safe, and reach out to us if you're a business in need of fire and life safety protection. We'd love to help.