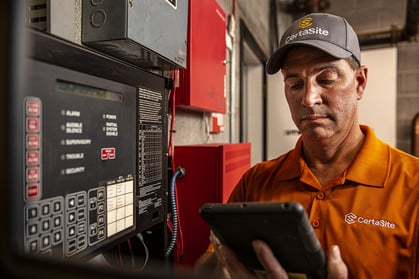 At CertaSite, fire protection and life safety is our passion. But we get that understanding and maintaining your fire alarm system doesn't ignite the same level of excitement in everyone. That's why we take our role as your fire alarm design and installation partner very seriously. We are here to ensure that the people and assets that are important to you are safe so you don't have to think about it.
CertaSite is here to make your job simpler and easier. How do we do that? If you're curious, read on to gain a better understanding of fire alarm design and installation.
Your fire alarm system needs to align with your specific environment and operational needs. As an example, a manufacturer has different requirements and specifications than a data warehouse provider. We have the expertise needed to design, install, service, and maintain any fire alarm system that is specific to your business. Though the components of your fire alarm system may vary based on your environment and operational needs, let's start with the definition of a fire alarm system. While you have no doubt heard of this system, you might not be as familiar with what it is and how it works.
Think of it this way...
A fire alarm system is a network of devices that uses visual and audio signals to alert people onsite and local fire stations of a possible fire, smoke, or carbon monoxide emergency. A fire alarm system is comprised of zones of fire alarm devices, which can be triggered by smoke, heat, or a manual activation. While your fire alarm system is instructing people to exit the building, it is also triggering a signal to local fire stations alerting them of the fire.
Now that we've laid the foundation of what a fire alarm system is, let's dive deeper into:
Fire alarm system types.
When to install or upgrade your fire alarm system.
The process of getting a fire alarm system installed.
Who to hire when you need to install or upgrade your fire alarm system.
The expertise and customer experience you should expect from a qualified fire and life safety vendor.
What are the types of fire alarm systems?
There are three main types of fire alarm systems: 1) conventional fire alarms, 2) addressable fire alarms, and 3) combination fire alarm/security systems.
Conventional fire alarm systems include several different "zones" that are hardwired to your central control panel. The control panel in a conventional fire alarm system can alert you to a detection that has happened in a zone or wing of your business, but not the specific location or room. These types of systems work well for small facilities.
Addressable fire alarm systems are the most modern type of system and each component has a unique identifier. These systems monitor each device in your building and can tell you the precise location of a detection. In addition to enabling faster response time when an incident occurs, addressable fire alarm systems also save time when a device needs repaired because it will tell the technician exactly what device needs to be serviced. In a conventional fire alarm system, the zone where a repair is needed will be identified but the technician will have to check each device in that zone.
Combination Fire Alarm/Security Systems are UL Listed Fire Alarm Systems that have the capabilities to add security devices to the fire alarm control panel to secure your business and also meet the fire alarm system requirements for your business.
When do I need to install a fire alarm system or upgrade/update my current system?
If you are building a new facility or adding onto your current facility, you will need to install a fire alarm system or upgrade your existing system to make sure all your property and people are protected.
You also need to upgrade/update your fire alarm system if your existing equipment has become outdated and doesn't meet compliance standards or if your equipment is failing because it is old.
What is the process to get a fire alarm system installed?
When you need to install a fire alarm system, your fire and life safety partner will review and collect your building specifications. This may include building drawings, understanding the type of environment - e.g. a data center, manufacturing floor, or surgical wing - and any other mechanical requirements of your operations.
From there, your fire and life safety partner will take your requirements and align them with what the fire code requires. They will create engineered drawings within CAD to provide you or your contractor.
Once approved, your fire and life safety partner will work to project manage the ordering of all the parts and materials needed to complete the installation. They will work to communicate critical milestones and provide updates to ensure they deliver an on time and on budget delivery. Once the installation is installed and completed, they will schedule a time to complete the programming of the fire alarm panel and complete final testing along with the local fire marshal.
For more information on the latest safety provisions and code standards for fire alarm system design and installation, reference NFPA 72®, published by the National Fire Protection Association (NFPA).
Who should I hire to install the fire alarm system for my construction project or building upgrade?
You will need to hire a fire and life safety partner with fire protection code expertise and CAD engineering experience. If you are a general, electrical, or mechanical contractor, these companies will bid on your construction projects and from there you will select the one you want. If you are a business upgrading your fire alarm system, these companies will provide you with quotes on the services your system upgrade requires.
You cannot rely on an electrical contractor to install the fire alarm system unless they have been trained and certified. Having installation experience with electrical systems is not enough because the codes and standards process that regulates fire alarm system installation is over and above the NEC installation requirements. That's why it's critical to hire a good fire and life safety partner.
What should I expect from a qualified fire and life safety vendor?
First, you should hire a partner, not a vendor. You need a partner who will deliver the best experience on everything from timely communication to education and certification to a deep understanding of all life safety systems. Specifically, you should look for a partner who delivers the following:
Timely response on quotes and CAD drawings – A good partner can deliver a quote to you before your requested deadline and supply engineered CAD drawings and submittal package in a timely manner to meet installation schedules. Quotes and drawings should be clear and complete.
Updates and regular communication – It's important for your partner to regularly communicate with you any updates related to your fire alarm system installation and ongoing maintenance of your system. You should have peace of mind that your partner is on top of managing your fire alarm system and is proactively communicating with you. If you ask them a question or need an update, they should be communicating an answer in a timely manner even if that answer is they don't know and are still trying to get the answer you need.
NICET certified Life Safety Engineers – When choosing a fire and life safety partner, you should verify that their technicians and engineers are National Institute for Certification in Engineering Technologies (NICET) certified. NICET is a robust credential, based on inter-related elements of fire alarm system design, installation, maintenance, and inspection. Fire alarm systems require complex programming, coding, and testing to set up properly, and this certification ensures that your partner has the expertise in all life safety systems needed to implement the right system for your business.
The codes and standards process for fire alarm installations is more extensive and complex than other installation processes – such as electrical installations – so make sure your partner is properly trained and provides programming and testing of the fire alarm system in accordance with the job schedule.
On-time and On Budget – You should look for a partner who provides a dedicated account manager to keep project on time and on budget. Your partner should ALWAYS be on-time regarding project deadlines and service appointments. The last thing you need is a partner who delays your project resulting in cost overrun. You should also expect them to stay on budget. A good partner can accurately determine a project budget and won't nickel and dime you. They will only ask for change orders when they are really needed and won't gouge you on legitimate change orders.
Collaboration and Enablement – A good partner will work to understand how to best collaborate on a project and enable you. This includes mitigating and eliminating any disruptions to the overall process, as well as asking you for feedback on how they can make the process easier for you.
CertaSite's mission is to engineer the ideal, custom system for your specific operations, keeping you truly protected instead of merely compliant. Let CertaSite simplify your fire and life safety program through comprehensive management of your fire alarm design, installation, service and maintenance so you can focus on your core business and don't have to think about it. Simply fill out the form below or call us at 844-906-2321 to start the conversation.