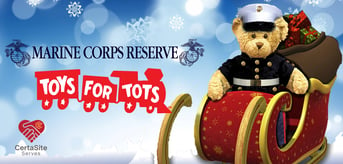 CertaSite Serves is back for Q4! With the success of last year's campaign, we've decided to again team up with Toys for Tots to support their annual toy drive. We are so excited to launch our holiday community initiative as part of CertaSite Serves, and we're excited to see the amazing achievements of this campaign with your help.
Our drive this year will begins today, November 23 and will run through December 20. Each location has a different drop-off deadline with many ending prior to December 20. We encourage online donations through December 20 once local drop off is complete.
With many folks still reeling from the impact of COVID-19, buying toys and fulfilling wish lists for Santa will again be tough this holiday season. Every child deserves a special holiday celebration so CertaSite Serves is again partnering with Toys for Tots to make this happen. Our goal is to gather a total of 1000+ toys. If each branch collected 100 toys, think about what a blessing that will be to our CertaSite friends and neighbors who are trying to make the holidays special.
Toys for Tots, founded in 1991 by the Marine Corps, collects new unwrapped toys and distributes these toys to less fortunate children during the holidays. The foundation's mission is, through the gift of a new toy, to help bring the joy of the holidays and send a message of hope to America's less fortunate children.
How to Participate
Give in person - visit your local CertaSite branch

to drop off your toys. See below for the locations with drop off sites.

Donate toys online

-

buy toys through Toys for Tots virtual toy box and email a receipt to

info@certasitepro.com.
Donate money online -

donate money on Toys for Tots website and email a receipt to

info@certasitepro.com

. Every $10 donated will count as one toy.
Be sure to check your spam folder for the receipt. It will come from info@toysfortots.com if you donated toys or donate@toysfortots.com if you donated money.
Our participating branches are:
Alpena, MI - Online only

Ann Arbor, MI - Drop off site

Bettendorf, IA - Online only

Columbus, OH - Drop off site

Dayton, OH - Drop off site

Franklin, WI - Drop off site

Fulton, IL - Drop off site

Grand Rapids, MI - Drop off site
Greensburg, PA - Drop off site

Indianapolis, IN - Drop off site

Kalamazoo, MI - Drop off site

Kent, OH - Drop off site

Rimersburg, PA - Drop off site

Sterling Heights, MI - Drop off site

Toledo, OH - Drop off site

Youngstown, OH - Online only
Need ideas?
Check out some of the top toys for 2021 from Amazon and featured on the Today Show.
Barbie Dreamhouse

Melissa and Doug Let's Play House Dust! Sweep! Mop! Play Set

Osmo Math Wizard and the Magical Workshop

Tamagotchi Pix

Crayola Light Up Tracing Pad
Polly Pocket Un-Box-It Play Set

ThinkFun Gravity Maze Marble Run Brain Game

WowWee Got2Glow Fairy Finder

Cocomelon Official Deluxe Interactive JJ Doll with Sounds

Chuckle & Roar Pop It!
About CertaSite Serves
CertaSite's purpose is to protect and provide a meaningful impact to as many lives as possible. CertaSite Serves supports that purpose and enlarges our wingspan beyond the life safety systems that we install, inspect, repair and maintain by offering a helping hand and providing a meaningful impact to those in critical need throughout our communities.