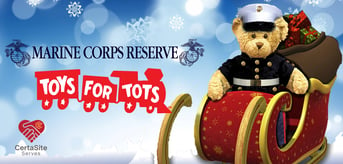 Toys for Tots has become a staple CertaSite Serves giving campaign. We always have many donations for the less fortunate children around our communities making the donation drive a success each year. We are so excited to launch our holiday community initiative as part of CertaSite Serves, and we're excited to see the amazing achievements of this campaign with your help.
Our drive this year begins today, November 7 and runs through December 20. Each location has different drop-off deadlines with many in early- to mid-December. We encourage online donations once local drop off is complete.
The last few years, we not only reached our goal, but far exceeded it due to all of your generosity. Our goal this year is to gather a total of 1000+ toys. If each branch collected 75 toys, think about what a blessing that will be to our CertaSite friends and neighbors who are trying to make the holidays special.
Toys for Tots, founded in 1991 by the Marine Corps, collects new unwrapped toys and distributes these toys to less fortunate children during the holidays. The foundation's mission is, through the gift of a new toy, to help bring the joy of the holidays and send a message of hope to America's less fortunate children.
How to Participate
Give in person - visit your local CertaSite branch

to drop off your toys. See below for the locations with drop off sites.

Donate toys online

-

buy toys through Toys for Tots virtual toy box and email a receipt to

info@certasitepro.com.
Donate money online -

donate money on Toys for Tots website and email a receipt to

info@certasitepro.com

. Every $10 donated will count as one toy.
Be sure to check your spam folder for the receipt. It will come from info@toysfortots.com if you donated toys or donate@toysfortots.com if you donated money.
Our participating branches are:
Alpena, MI - Online only

Ann Arbor, MI - Drop off site

Brunswick, OH - Drop off site

Columbus, OH - Drop off site

Davenport, IA - Drop off site

Dayton, OH - Drop off site

Franklin, WI - Drop off site

Fulton, IL - Drop off site
Grand Rapids, MI - Drop off site

Greensburg, PA - Drop off site

Indianapolis, IN - Drop off site

Kalamazoo, MI - Drop off site

Kent, OH - Drop off site

Rimersburg, PA - Drop off site

Sterling Heights, MI - Drop off site

Toledo, OH - Drop off site
Need ideas?
Check out some of the top toys for 2022 from Amazon and Walmart.
About CertaSite Serves
CertaSite's purpose is to protect and provide a meaningful impact to as many lives as possible. CertaSite Serves supports that purpose and enlarges our wingspan beyond the life safety systems that we install, inspect, repair and maintain by offering a helping hand and providing a meaningful impact to those in critical need throughout our communities.