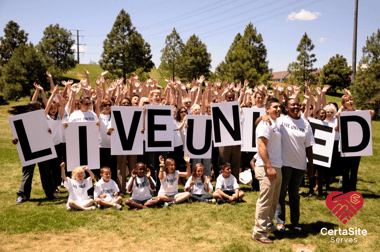 For our second quarter philanthropic initiative, we're supporting those in our communities who need a little assistance through a donation drive for the United Way. United Way brings people and communities together to advance the common good. Their mission is to unite caring people to build pathways out of poverty, creating opportunity for all. The United Way helps provide the building blocks for a good life through efforts in three areas: health/wellness, education, and financial stability.
The donation drive will run from June 10 – July 9, 2021. Our goal is to gather 100 donations at each location. Across our 16 locations, that's more than 1,000 donation items. How incredible is that?
This CertaSite Serves community initiative can have a tremendous impact on our local communities and those families and individuals who are in or close to poverty. With your help, we're excited to see the amazing achievements of this campaign!
How to Participate
Give in person - visit your local CertaSite branch. See below for the CertaSite locations with drop-off sites.
Donate money online - donate money through the United Way location website and email a receipt to info@certasitepro.com. Every $5 donated will count as one donation good. Be sure to check your spam folder for the receipt.
Ann Arbor, MI – Drop-off site

Quad Cities - Drop-off site at Fulton

Columbus, OH - Drop-off site

Franklin, WI - Drop-off site

Grand Rapids, MI - Drop-off site

Greensburg, PA - Drop-off site

Indianapolis, IN - Drop-off site

Kalamazoo, MI - Drop-off site

Kent, OH/Youngstown, OH - Drop-off site at Kent and Youngstown

Rimersburg, PA - Drop-off site

Toledo, OH - Drop-off site
Need Ideas?
Below is a list of high-demand category items:
Cleaning products

Clothing - adult and children

Non-perishable food items

Infant necessities

For the home - new vacuums, brooms, laps, trash bags, dish sets, pots/pans
Personal care products

Linens

Gift cards - fuel, grocery

School supplies

Game/Art supplies
Follow Along For Donation Drive Updates
Let's show our communities that we're more than just fire extinguishers. We're also a compassionate hand to those in need. And if you don't already follow CertaSite on LinkedIn and Facebook, please take a moment to do that now because we'll be sharing updates on our Humane Society donation drive (and more!) there.
About CertaSite Serves
CertaSite's purpose is to protect and provide a meaningful impact to as many lives as possible. CertaSite Serves supports that purpose and enlarges our wingspan beyond the life safety systems that we install, inspect, repair and maintain by offering a helping hand and providing a meaningful impact to those in critical need throughout our communities.