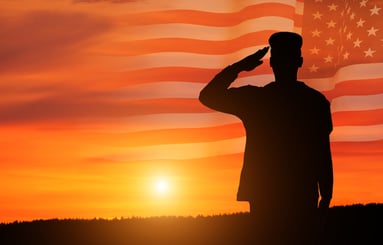 Today is Veterans Day, the annual observance of those who have served our great nation. While every day is a good day to show your gratitude, it's especially important today to acknowledge our nation's servicemen and servicewomen.
CertaSite is proud to support our Veterans and current servicemembers. Not only do we have many Veterans on the CertaSite team, but we also visit army bases, like Fort Knox, for recruitment fairs, and support Veteran initiatives like the 2022 Disabled Veteran's Freedom Hunt at Fort Custer Training Center, which was organized 16 years ago by Tony Snyder, one of CertaSite's Service Managers.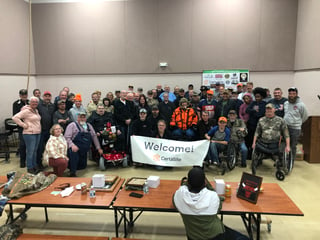 The Disabled Veteran's Freedom Hunt is an annual gathering that hosts disabled Veterans. Thanks to sponsors and donations, there is zero cost for the Veterans. The five-day event on 3,000 acres at Fort Custer includes deer hunts, homemade meals, a banquet, and incredible stories shared by all. There's even a yearly raffle of a custom chainsaw woodcarving where the winner gets to choose what is carved.
The hunt came about after Tony and his friend had a conversation about taking someone with disabilities hunting. One conversation led to another and in 2006, Tony and his buddy hosted eight disabled veterans. As of today, the group just held their 15th hunt (2020 was canceled due to COVID-19) with 38 disabled Veterans on hand. They've even had as many as 50 Veterans attend. CertaSite is truly honored to be a sponsor of the Freedom Hunt.
At CertaSite, today is especially meaningful to us as many of our associates are Veterans, including our own CEO Jeff Wyatt. We value this day and what it means to our country, co-workers, and their families. We're fortunate to work with incredible Veterans on a daily basis.
Jeff Wyatt, CEO
Jeff is a veteran of the United States Navy. As an interior communications electrician, Jeff served on the USS John Marshall SSN 611 submarine from 1986 – 1989. He received the sea service award, good conduct medal, and received a letter of commendation during one of his deployments to the Mediterranean Sea. Jeff was promoted to Petty Officer 2nd Class prior to his honorable discharge. Jeff's work in the navy as a communications electrician is what first drew him to the fire and life safety industry.
A Special Thank You to All of Our CertaSite Veterans
| | |
| --- | --- |
| Alan Driver - USMC, US Army, Indiana Army National Guard, 22 Years | Marcus Cleary - US Army, 8 years |
| Bill Holmes - US Navy, 24 years | Mark Altenburg - US Navy, 4 years |
| Brandon Keeler - US Army, 4 years | Matthew Bauman - Army National Guard, 6 years |
| Chris Ronfeldt - Michigan Army National, 21 years | Michael Wickman - US Navy, 24 years |
| Eric Makarewicz - US Army, 4 years | Rich Kendle - US Navy, 4 years |
| Joshua Munday - US Army, 7 years | Robert Willis - US Navy, 14 years |
| Joshua Schultz - US Army, 11 years | Timothy Slaughter - US Navy, 10.5 years |
| Joshua Turner - US Army, 10 years | Zack Mosely - US Air Force, 4 years |