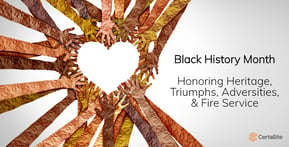 February is Black History Month. To raise awareness and pay tribute, we want to educate and recognize the history and foundations of the rich cultural heritage, triumphs, and adversities that play a large part in our country's history and the history of fire protection.
The origins of Black History Month date back to the 1920s when "the father of Black History" Carter G. Woodson set out on a mission to designate a time to educate people about Black history and culture through a weeklong celebration to coordinate with public schools to teach students. He chose the second week of February because it coincides with the birthdays of Frederick Douglass and Abraham Lincoln, both of whom were prominent and influential leaders during emancipation and the abolitionist movement.
By the late 1960s, this weeklong celebration evolved into what we now know as Black History Month. In 1976, fifty years after the first Black history celebrations, Black History Month was officially recognized on a national platform during the nation's 1976 bicentennial celebration when President Gerald Ford called upon Americans to take this opportunity to honor and learn about the "too-often neglected accomplishments of Black Americans in every area of endeavor throughout our history."
African Americans and Fire Service
Today in the United States, there are more than 90,000 African American volunteer and career firefighters equating to 8.4% of the overall total number of firefighters in our nation. That number has more than tripled in 10 years.
The oldest documents that identify African American firefighters were in New Orleans in 1817. In July of 1817, a devastating fire that destroyed many acres of land and in response the governing body in New Orleans organized people, men of color, and slaves to avoid another fire of this magnitude. One year later, in New York City, the first woman firefighter, African American Molly Williams, served as a volunteer firefighter for the Oceanus Volunteer Fire Company No. 1.
It is important to recognize the accomplishments of African Americans in the fire service industry. Some of the milestones this community has achieved are:
1871: the first African American Fire Chief in the United States is appointed. Patrick H. Raymond of Cambridge, MA held this honor.

1966: Robert O. Lowery becomes the first African American Fire Commissioner of New York City. He served in this role until September 1973.

1970: In Hartford, CT, the International Association of Black Professional Fire Fighters is formed.

1976: the first woman to become a career firefighter serves in the Pittsburgh Bureau of Fire. Her name is Toni McIntosh.

1984: Cecelia O. Salters becomes the first woman to be assigned to a New York City truck company.

1988: Black Women in the Fire Service is established as a subcommittee of the International Association of Black Professional Fire Fighters. This subcommittee is created to address increased issues related to African American firefighters. The Black Women in the Fire Service becomes a standalone committee in 1996.

1994: Carrye B. Brown becomes the first African American United States Fire Administrator.

2002: Chief Rosemary Cloud is the first African American woman appointed as Fire Chief for a career fire department. She serves as Chief for the East Point Fire Department in Georgia.
Black History Month Theme
Each year, the Association for the Study of African American Life and History, which was founded in 1916 by Carter Woodson, recognizes a theme for Black History Month. Woodson recognized the importance of having a theme to focus the public's attention on. The themes reflect changes in how African Americans have viewed themselves, the influence of social movements on racial ideologies, and the aspirations of the black community. Some themes of years' past include Negro Labor (1940), Negro History in the Home, School, and the Community (1967), Black Business (1998), and The History of Black Economic Empowerment (2010).
This year's theme is Black Health and Wellness, and it is extremely timely given we are entering our third year of the pandemic. Minority communities have suffered throughout the pandemic and their less favorable health outcomes have become more prominent given COVID-19. This theme honors medical and health care professionals, as well as first responders, who have been placed under a unique burden throughout the entire length of the pandemic.
Black History Month is a time to recognize, remember, and celebrate the African American community and the ancestors who began paving the way hundreds of years ago. There are many activities you can do to honor this history and further educate yourself. Learn more here or check out the following resources: