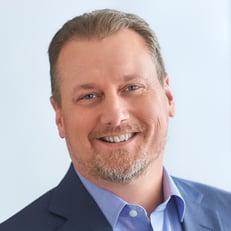 For more than 30 years, Jeff Wyatt has poured his heart and soul into the fire protection and life safety industry. He has climbed the corporate ladder and now resides at the top as CertaSite's CEO.
Since CertaSite's formation in 2018, Jeff has grown the company in ways he only dreamed of. In less than three years, CertaSite has acquired 11 fire protection and life safety companies and welcomed more than 300 employees to the CertaSite family. With a bright future ahead and plans for continued growth through acquisitions, let's learn a little more about CertaSite and its fearless leader Jeff Wyatt.
Q: People grow up often wanting to be a firefighter. Saving lives. But work for a fire protection and life safety company? Not as common, but still impacting lives. What inspired you to pursue a career in the fire protection and life safety industry?
A: Well, the choice for me many years ago was to become the "cable guy" or the "fire guy" when I left the military. Even then, at such a young age, I understood the importance of having a meaningful purpose in my career. So, being the "fire guy" was the decision I made, and boy, am I thankful about that today. Although, being the cable guy would have been fun for a while!
Q: Throughout your more than 30 years in the industry, what are your top three accomplishments so far?
A: I'm extremely proud of the reputation I have built as being someone with strong integrity and moral character.
Second, becoming the president of Koorsen Fire & Security in 2016 after starting work there in 1989 as a field installer earning a whopping $7.25 an hour.
While those two are certainly solid reasons to be proud, being the CEO of CertaSite is by far my top career accomplishment. Building this incredible company from the ground up to where we are today is insane. And doing so with talented and genuine leaders has been an honor. We are just getting started!
Q: How have your life experiences made you a better leader?
A: My faith deserves so much credit for who I am today. Serving others, loving your neighbor, being humble in life, and trusting that God has your back has changed my perspective on life and, in my opinion, heavily weighs on my leadership style today.
My service in the U.S. Navy on a nuclear-powered submarine is a time I will never forget. The military taught me how to do my job while working through a very stressful situation. It also taught me the importance of working with and trusting your shipmates (team) to be more successful together.
Lastly, having a great mother and father helped me grow up to be a darn good dad. Anyone with children knows that you learn a ton about leadership in your own family. I am so thankful for them and very happy I did not screw things up for my children either.
Q: Jeff, you've been involved in so many aspects of the industry. Now you're the leader of CertaSite and heavily involved in the acquisition side of the business, which can bring a host of exciting opportunities to CertaSite. Most fire protection and life safety company owners don't know if they should sell their company, when the time is right, or don't know why they should sell. As someone with profound experience down this avenue, tell me why a company should consider selling to CertaSite.
A: Because the owner sincerely wants their people to have a better future.
It is hard to think about someone else giving their employees more than they can give themselves. But, with CertaSite, we can clearly demonstrate an overall better future stemming from our benefits package, our own training academy – CertaSite Academy - which allows for career advancement far beyond what most owners can offer, dedicated marketing and sales teams, and improvements in technology and innovation.
Another reason an owner should consider selling to CertaSite is one who is thinking about what is best for their customers. Most owners are unable to provide all fire protection services, which most customers want today. Even if they can, they find it is difficult to manage the growth needs in technicians as it becomes harder to find qualified people. At CertaSite, our full-time recruiter and training academy allow us to hire well ahead of our needs which ensures our technician staffing levels are qualified and capable of managing the customer needs.
Lastly, an owner who is looking for a fire protection leader to carry forward the legacy they have built should consider selling to CertaSite and not to one who is a publicly traded conglomerate or financial buyer focused on their EBITDA.
With more than 30 years in the fire protection and life safety industry, I have served in the field, worked as a GM, and become the president of a regional fire protection company. I have the experience, respect, and passion for a better future in this industry. I am very proud to say that throughout my career, nearly fifty owners have trusted me with safeguarding their legacies.
Q: For a fire protection and life safety company owner who is ready to sell, what are some of the high-level acquisition process steps he or she should expect from CertaSite?
A: Once an owner decides to consider selling to CertaSite, these are the key steps in the initial process followed by the acquisition process.
Our valuation is easy to secure. We need basic information that would not require any financial documents. We will ask about ten questions and, assuming the owner can answer them, we will establish the value from the information obtained. Within a short time of receiving the answers, we will be ready to present a letter of intent (LOI) to the owner.
If the owner accepts our LOI, we will present a calendar of the due diligence schedule and projected closing date. Typically, the closing date is between 60-90 days from the LOI execution, but we are flexible on the timing based on the owner's availability.
Financial, environmental, operational, and legal diligence are part of the process. Then, we close and welcome the company, employees, and customers to the CertaSite family.
Q: Welcome to the CertaSite family. That has a nice ring to it. When people join CertaSite, it's not just a company, it's a family and that's evident by what you've mentioned above. What are you most proud of regarding CertaSite?
A: To my knowledge, we have done something at CertaSite that has not been done before. We started our company less than three years ago with one employee, me. Today we have 345 employees, 17 locations, and a brand that is on fire with growth and excitement. When an investor backs a company like CertaSite, they are usually backing a much larger company that is grown from there. We have beat the odds and can look back on where we started, where we were a year ago, and where we are today. It is easy to see why we should ALL be PROUD.
Q: You've told me why an owner should consider selling to CertaSite, but why should customers consider CertaSite as their preferred fire protection and life safety provider?
A: CertaSite isn't a fit for everyone. We specialize in those customers who value their time. Those who need easy access to their account where they can see every aspect of their fire protection and life safety solutions to include their inspection reports, invoices, deficiencies, and future planning tools to see what they need to budget for. And they want the best trained life safety technicians they can find to perform the work at their site. By providing these important features, we do not see ourselves driven by price as the reason people choose CertaSite.
So, if you are looking to buy a few fire extinguishers, we may not be the right fit. If you are looking for a true partner in your life safety needs who delivers value and peace of mind, then we are here to help you protect your people and your business with the best the industry has to offer.
Q: One final question. What's one word that describes you best?
A: Genuine
Through Jeff's dedication, leadership, and drive to give companies a brighter future, CertaSite already has acquired 12 fire protection and life safety companies and is actively engaged in bringing new businesses under the CertaSite umbrella. To date, the CertaSite family includes: ABC Fire Extinguisher Co. (Youngstown, Ohio); Advanced Fire, a CertaSite Company (Pennsylvania); Approved Protection Systems (Michigan); Approved Safety and Security (South Bend, Indiana); Company One Suppression (Illinois and Iowa); County Fire Protection (Ohio); Erlich Fire Protection (Michigan); Field's Fire Protection (Michigan); Great Lakes Fire & Safety Equipment (Michigan); Spears Fire & Safety (Michigan); Starfire Systems and Starfire Suppression Equipment (Wisconsin); and Marine Fire Sales & Service (Ohio).