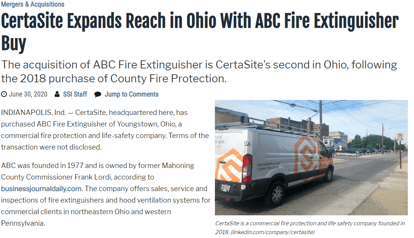 CertaSite proudly announced in May that we had acquired the assets of ABC Fire Extinguisher Co. hailing from Youngstown, OH.
Frank Lordi, former owner of ABC shared with us, "CertaSite and Riverside are the perfect partners to build on the foundation laid by our employees and customers." He went on to say, "Transitioning our business to CertaSite blends our unique industry knowledge with a technology-based platform that offers new product lines, is professional and rooted in best practices, and provides significant value for customers."
CertaSite certainly shares in Frank's excitement and it's evident that the fire and life safety industry as a whole is feeling it, too. WISHTV, Inside Indiana Business, Security Sales & Integration, The Business Journal out of Youngstown and Healthcare Business Today recently shared the news of our acquisition out to their esteemed and well-connected community of business owners, leaders and influencers. We thank them for their partnership and support!
The acquisition of ABC Fire Extinguisher Co. marks the second Ohio-based commercial fire and life safety company that is operating under the CertaSite family of brands with more on the way. We're gaining momentum as we dive headlong into our mission to protect as many lives as possible while delivering best in class service, expertise, professionalism and tech enablement.
Quite simply, life safety and fire protection are our passion and we can't wait to share what's next with you, so stay tuned! Want to stay connected? Be sure to follow us on Facebook and LinkedIn.