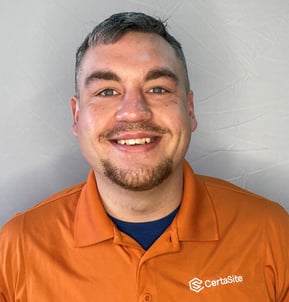 The CertaSite Academy grew from a desire to innovate and a commitment to life-long learning for CertaSite's employees. Our well-rounded employees are passionate about what they do, provide the best service to our customers, and are the most knowledgeable in the field thanks to what the CertaSite Academy offers.
We've seen more than 150 CertaSite employees enroll in the CertaSite Academy, each developing technology, people, and professional skills. Our employees are driven to successfully complete their levels so they can continue of the path to professional growth.
An Employee's Journey
One CertaSite employee eager to achieve success is Jordan Evans. Jordan is one of our route sales & service technicians with a drive to learn. Within the CertaSite Academy, a route sales & service technician has four levels of study they need to successfully pass to complete all academy courses for the field of work. Throughout his time at CertaSite, Jordan has completed three of those four levels and is almost done with the fourth one. And he completed all of this work in less than a year. On average, one level takes anywhere from as little as 10 weeks to more than three months to complete.
When he joined CertaSite, Jordan was intrigued by the CertaSite Academy. Jordan thrived in the career growth atmosphere and the teamwork embedded throughout the CertaSite Academy. He jumped in with both feet and decided to complete all paths assigned to him and learn additional fields of study to broaden his industry strengths and knowledge.
Benefits
When we asked Jordan about the benefits he has seen from the CertaSite Academy, he had a lot to share. Jordan obtained three separate International Code Council (ICC) and NAFED certifications: Portable Fire Extinguisher, Pre-engineered Industrial Fire Extinguishing System, and Pre-engineered Kitchen Fire Extinguishing System. NAFED recognizes that these certifications raise the level of professionalism in the fire and life safety industry. Along with the three licenses, Jordan earned numerous certificates from industry training as well as manufacturer training. The amount of effort and dedication Jordan put into his work to garner these recognitions shows his commitment to the industry, safety, and CertaSite's customers.
With all these designations, you'd think there'd be nothing else to learn. Think again. Jordan is currently preparing to apply for a NICET 1 in special hazards systems. This certification allows technicians to engage in the installation and maintenance related to special hazards suppression systems.
Sure, the certifications and trainings are major benefits, but another benefit Jordan mentioned was the amount of networking contacts and partners he has made throughout the whole process. Jordan's personal and professional networking has grown tremendously and that's priceless.
Challenges
When we asked Jordan about the challenges he faced during his journey through the CertaSite Academy, he mentioned a few obstacles, which he considers "growing pains." With the CertaSite Academy, Jordan felt the challenging part was learning the platform itself and adapting to new upgrades to the system. Think about doing an update to your phone and new features on your operating system emerge. You need to learn all the ins and outs of the features and it can be confusing at first. The same goes for technology platforms at companies, or in this case, the learning platform our CertaSite Academy is housed on.
Tips from an Expert
It's always beneficial to hear tips from people who have had success with something. When it comes to those starting out, Jordan had one core piece of advice: commit to learning and believe in yourself. Completing levels takes commitment. You need to believe in yourself and commit to growing your business acumen. The CertaSite Academy, for Jordan, is a lifestyle commitment to growing your professional industry knowledge. It opens up an entire new world of opportunities: networking, increased pay, growth. When Jordan didn't think it could get any better, it did. And that's due to his commitment to learning, growing, and wanting to succeed in the industry.
All CertaSite technicians must complete safety training. There are 30 courses within the training. Jordan completed 100 percent of these courses in conjunction with his CertaSite Academy courses. Incredible! As one of handful of employees who has been able to complete these, Jordan encourages all employees to show their commitment, pay attention, and develop a hunger to learn new information. While it was a lot of work to complete the safety trainings parallel to his field trainings, Jordan knew what needed to be done and put in the work to achieve this for himself, his co-workers, and our customers.
The CertaSite Academy is designed to provide long-term professional development paths for CertaSite's employees. This is a way to invest in our employees, like Jordan, and show them we care about their career path and growth. The Academy has helped Jordan acquire new knowledge in his specified field, increase his income, and has provided a refresher on some fine details that he doesn't always focus on like communications and networking. The trainings have motivated him not only in his profession but also in his personal growth efforts.
Our CertaSite Academy is more than a learning application. It's a platform where people can do big things and achieve their goals. It's a commitment to yourself. It's CertaSite's commitment you.
The sky's the limit, and Jordan is well on his way.